Introducing The Tailor Made Boot Collection
Posted by Jones Bootmaker on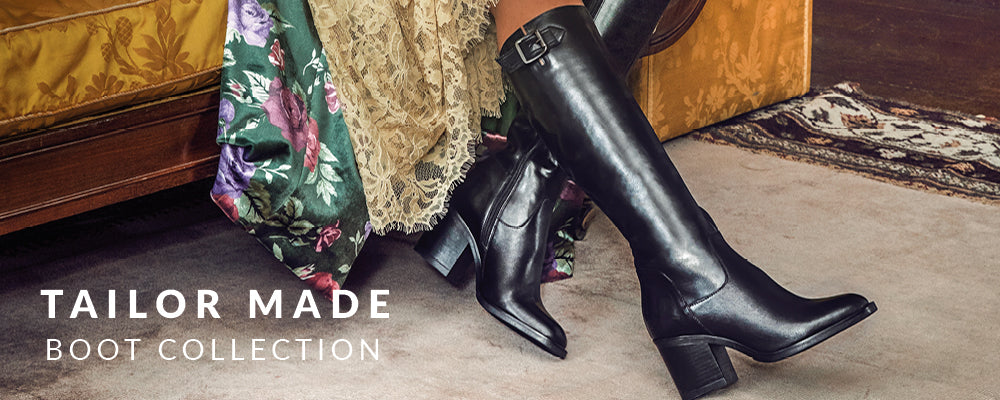 The art of boot-making is deeply-rooted in our philosophy – it's our namesake after all. With long boot season in full swing, we're debuting our hotly anticipated collection of size-inclusive knee-high boots crafted with multiple calf widths, giving women the opportunity to find their perfect fit.
The Tailor Made collection celebrates the uniqueness of every woman with specially designed tall boots that are made to fit your calf, leg, and foot, regardless of your shoe or dress size. Created in an array of calf widths, from extra slim to slim, standard, and wide fits, every knee boot in the collection is crafted from beautiful high grade leather that are made to celebrate your size, style, and confidence. 
We believe that a well-crafted pair of knee-high boots are a true wardrobe investment, they'll step you through every part of your life for the majority of the year, so they need to be flattering, elegant, and versatile.
catanzaro in Tan
CAGLIARI in Black
Size-Inclusive Boots
Shopping for the perfect fitting boots can be an overwhelming experience, from choosing the right boots to suit your lifestyle to finding the pair with the perfect colour that will integrate seamlessly into your wardrobe, and of course, finding the boots that fit your calf. With so much to consider, it's no wonder many women don't enjoy the experience.
In fact, our recent survey has revealed that many women cannot find tall boots with the correct width fitting, in fact 72% of women find it difficult to find a good fit, 42% of women surveyed found that boots are too small for their calves, and 21% of women found boots to be too big and unflattering, but it doesn't have to be this way.
The power of great-fitting boots has the ability to unleash your inner confidence while stepping you through the day (and night) with ease. Wearing a pair of long boots that fit well can change the entire perception of your body and your wardrobe, while providing practical support for your feet. The Tailor Made collection is designed to fit every woman, not fast-fashion trends, celebrating the true female form. 
Bootmaking is our DNA, it didn't sit well that we weren't catering for a wide range of women who all have different fit needs from a pair of tall boots. We've worked meticulously on the measurements, material selection and style of each boot in this range, with the aim of allowing nearly every woman to find a tall boot that truly fits them.
Lucille Austin – Senior Buyer, Jones Bootmaker
Meet the Collection
Not only will a pair of good-quality knee boots form the backbone of your winter wardrobe, but a well-crafted pair will last longer, making a worthy investment for the cooler seasons ahead, year-after-year. In short, a pair of well-fitting boots promise to pull together any-and-all outfits with that perfectly polished finesse, no extra thought required. 
In case you hadn't noticed, we're passionate about delivering the shoes and boots that are endlessly wearable, up-to-date, yet remaining entirely classic and timeless, and the Tailor Made boot collection promises all of that. In case you need a little extra persuasion, take a scroll through the collection to find out for yourself, each are available with four calf fits.
Extra Slim Calf Fit
Slim Calf Fit
Catanzaro Slim Leather Rider Boots
Standard Calf Fit
Wide Calf Fit
Cagliari Wide Fit Knee High Boots
Share this post