The Brand to Know: Regarde Le Ciel
Posted by Jones Bootmaker on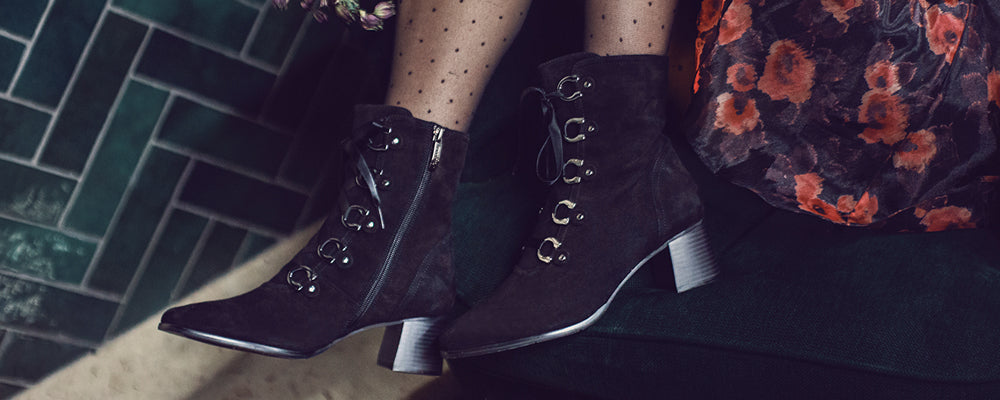 A good pair of ladies boots are intrinsic in value, timeless, and versatile, they will prime you for any eventuality in the season ahead. So, when it comes to conscious, sartorial style investments,
Regarde Le Ciel
is the brand for you.
Famed for their form fitting silhouettes that are cut from immaculate leathers, they bring precious shoes and boots that you'll cherish through every season.
Beyond the flawless leather finishing lies the brand's other core principle, the comfort. Look to the high-density foam insoles with memory cushioning for personalised comfort - note the block heels infused with all-day sensibility.
Endlessly wearable, their collections will slot into your existing wardrobe with ease. Enter the most covetable boots for winter …
In Focus: The Luxe Leather Ranges
When it comes to choosing, what are the best boot styles? May we turn your attention to Regarde Le Ciel's signature leathers, handcrafted to impeccable standards, you'll never cease to delight at the quality in their collections. Swathed in soft, supple leathers that are worked in specialist tanneries to produce rich tones in three flawless finishes, Glove, Delice and Sajo.
Taking influence from Italy's master leather workers, each of the three types of leather are carefully processed using environmentally friendly methods, where they're brushed and treated with quality creams to enrich the leather. The result? Covetable boots in luscious tones that you will never tire of.
"Leather is a natural product - it is a material which gives back the life to a shoe. The touch, colour, transparency and the grain of a leather is key."


Filip Rasschaert, Founder & CEO, Regarde Le Ciel
Glove Leather
The soft, supple quality of Regarde Le Ciel's Glove leathers are a real signature for the brand. Naturally tanned, the glove leathers are drum dyed and lovingly processed with immaculate attention to detail.
Sonia-05: Glove Leather Tan Knee-High Boots
Tan boots always create a good base for any winter look, cut from the brand's Glove leathers, the Sonia knee high boots hold the power to make a thrown together look appear dressed-up, ideal for those hurried morning starts.
Every fine detail has been considered when constructing these knee boots, from the subtle burnishing across the upper and the almond toe finish. Stacked on a mid-block heel with an instant forming insole, they're easy on your feet all day.
Looking for a quick post-work fix? Opt for the Sonia 05 knee boot in black.
Delice Leather
Crafted from the brand's glove leather, Delice holds the delectably soft quality that Regarde Le Ciel is loved for, the further process of tanning and drum dying closes the grain to create a smoother and richer finish.
Patricia-30:  Black Knee-High Boot in Delice Leather
Serving up a heavy dose of versatility, these black knee-high boots will work well layered under a floating mid-length dress with dainty floral prints, for a smarter approach pair with a high-waisted pencil skirt with a silky pussy-bow blouse and camel coat for work-appropriate look.
Sculpted in Regarde's luxe Delice leather, the knee boots will hug the ankle and extend up over the calf for a flattering and supportive fit. Set atop a mid-heel they'll both elevate your day-to-day looks and amplify your evening attire. Your wardrobe's hardest worker? We think so.
Sajo Soft Leather
Crafted from kid skin, Regarde's Sajo leather is finely 'skived', which is a technique used by leather workers to achieve a slimmer, softer, and more supple finish, perfect for slouch boots or a closer fitting silhouette. The tanning and double drum dying allows for a fine and elegant finish.
Ines-05 Heeled Ankle Boots in Sajo Leather
When chosen well a good pair of ankle boots have the power to play a central role in your capsule wardrobe. Sheer tights and a mid-length skirt? Skinny jeans and roll-neck jumper? Enter the Ines ankle boots.
Cut from fine Sajo suede, the ankle boot boasts a sophisticated silhouette that's topped with ribbon laces and a sharp pointed toe. The kid skin upper is so soft it will flex and mould to your shape. Note the sculpted block heel for reliable all-day wear.
Share this post