A Complete Guide to Hybrid Shoes
Posted by Jones Bootmaker on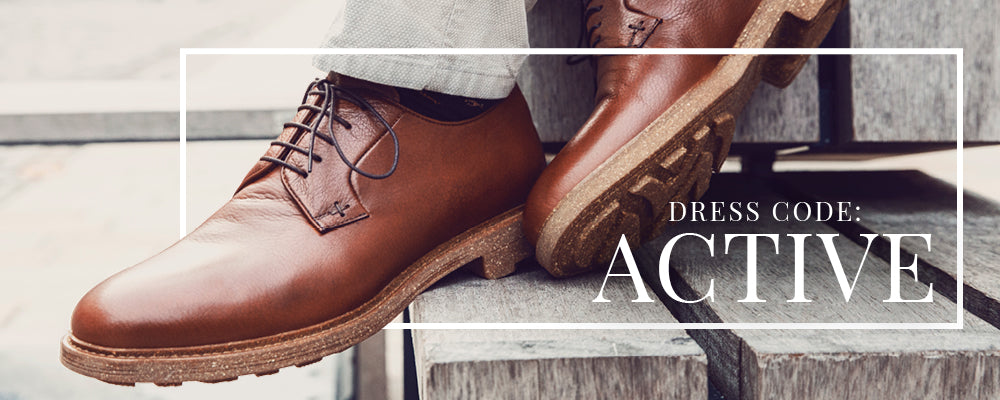 The cool commuter shoe does exist, in fact there's a whole host of hybrid shoes that are as adept for navigating the morning commute as they are for tackling the formalities of the office dress code. 
The easing of workwear has unearthed some much-needed middle ground for the smart sartorial etiquette we were once so closely bound to. Our working lives have been dramatically uprooted over the last two years and with hybrid working the norm, stuffy dress-codes have been refreshed with cool casual charm, so you need the business casual shoes that will accompany you both in and out of the office. 

Hybrid shoes take on many forms, it's what makes them smart enough to wear to work, versatile enough to adapt to your day-to-day ensembles, and comfortable enough to wear all day and night. From the do-it-all trainers for work that will pick up the pace when you're dashing from meeting to meeting, to classic Chelsea boots signed off with  lightweight rubber soles that ensure your comfort is covered no matter the agenda, and the traditional brogue reinvented with chunky dimensions.

Making mindful investments for your shoe collection will not only future-proof your workwear wardrobe but a smart-casual pair of shoes will bring a cool new edge to workwear as we know it. To help you bring your workwear up to date into a new-found era, we've pulled together a complete guide to wearing comfy shoes to work for both men and women.

@yeleking wears the Bushwick brogues
Larkin recycled leather shoes
Styling Men's Smart Casual Work Shoes
Dressing for the office is tricky enough at the best of times, so when the words 'smart casual' are uttered it's enough to instil dread on the most style-confident gent. With a little know-how you can find the classic casual work shoes that will keep you right up-to-date even when you're on-the-go.

Keep it Classic
The perfect business casual outfit must contain elements of both smart sophistication and laid-back cool. Instead of contrasting they must harmonise which is no easy feat, especially at the crack of dawn. Integrating classic pieces into your wardrobe is a great way to build a timeless capsule, so you can mix and match its staples to build an outfit that looks well put together in a matter of minutes. 

For a casual look for work, ground your outfit with a timeless pair of lace-ups equipped with chunky lugged soles to keep things practical. Wear with slim-fit tailoring and a collared white shirt. Your first instinct might be to grab the matching suit jacket, but not so fast young gun! For a softer and relaxed feel, throw on a bomber jacket in complementing hues.

Play with Proportions
Footwear with chunky soles are the look of the moment, and they show no signs of disappearing anytime soon. Smart casual outfits are often simple, so focusing on the details can really make your outfit stand out. Start by distinguishing the bold proportions of the soles with a pair of slim-fitting trousers, as styled by Yele King. It's vital to note the length of your trousers, an ankle skimming pair will keep your outfit looking relaxed yet put-together. 

There's no need to go sockless, a pair of ankle socks will tie together the colours in your outfit and add further dimensions of texture.

How to Wear Trainers to Work (and still look professional)
A minimalist design usually makes a classic, and a pair of men's leather trainers will form the ultimate foundation to many an outfit for both work and play. With many of us clinging onto the fading resolutions we valiantly made at the start of the year, smart casual trainers are the perfect cure for keeping active, think power walking on your lunch breaks to refresh your senses. 

There are a few commandments to consider before wearing your trainers with a suit or your workwear attire ...

1. Smart trainers are best

Stick to trainers with a sleek design, smooth leather exteriors and fresh white soles that will keep your footwear looking fresh, clean-cut, and presentable. Your faded running trainers will certainly give the wrong impression.

2. Wear with well-fitting trousers and suits 

The easiest way to make your trainers look professional is to pair them with crisp tailored trousers or chinos, make sure your trousers fit well and don't look baggy at the ankle.

3. Add a blazer or structured jacket
Pulling on a tailored blazer on with a crisp white shirt or polo t-shirt will instantly counteract the casual look of your trainers. Mix and match your trousers and jacket with complementing colours and patterns to relax the formalities of your tailoring and keep your look feeling presentable.

The Best Boots to Wear to Work
The ultimate litmus test for work shoes is the rush of the morning commute, so we need footwear that will adapt to every terrain in the depths of winter while remaining smart in an office setting. 

Ankle boots are one of the most versatile types of footwear around and they're the ideal way to ease a gent back to work in the winter months. With many iterations to consider from the chukka boot and the Chelsea, our collection of hybrid boots have been re-invented with modern fabrications, like our lightweight soles that will elegantly and practically serve you through the 9-5 (and beyond).

A well-cut suit is always a worthwhile option to wear with your ankle boots, but if you're aiming to tweak its appearance to suit the relaxed dress-code, switch your crisp oxford shirt for a light roll neck-jumper. For a more relaxed take on a smart casual outfit go for denim jeans rolled at the ankle, and pair with a collared shirt and structured blazer. 
Ash leather high-top trainers
Styling Women's Business Casual Trainers
We all remember the awkward pairing of a commuter's uniform, aka worn-out gym trainers and grey suit dresses, but these day's you can swerve the fashion faux-par and stick to wearing your trainers all-day long.

Leather trainers are a fail-safe option that has the potential to go beyond the confines of jumper and jeans territory. In fact, there's a bounty of work outfits that trainers can be worn with, whether in the depths of winter or in high summer. Plus, we like to think trainers make you that bit faster, should you want to grab quick a coffee-to-go for the outward commute.

While we could pay homage to our everlasting love of white trainers, there's something about the versatility of high-top trainers that we can't deny. For an office-appropriate outfit, team retro inspired high-tops with a coordinated trouser suit and blazer combination, and keep it cool with a slouchy white tee. For a look that translates to the summer months, a pair of leather high-top trainers can be easily slipped on with a silky slip skirt or a floor skimming frock.

Share this post