A guide to buying planet-friendly shoes
Posted by Jones Bootmaker on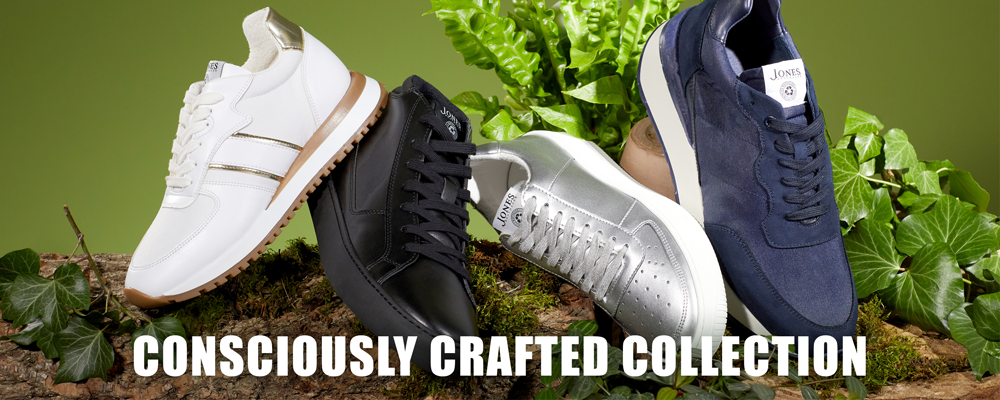 These days, we're growing more conscious of how we shop, we're choosing to refine our personal style over revelling in the next big trend. Choosing quality over quantity is considered one of the best ways to invest in your wardrobe and, alas, your finances.
But how can we become more eco-friendly when shopping for shoes? Our Consciously Crafted Collection holds the answer. A range of trainers and bags made from planet-friendly materials and would-be-waste.

Consciously Crafted Trainers
Crafted with renewed materials, our Consciously Crafted range features a selection of eco-friendly trainers for men and women that saves waste, such as plastic bottles, apple waste (yes, really), and single-use rubber from reaching landfill. 

How can we make trainers more sustainable?
GRS (Global Recycled Standards) have certified 100% of the recycled materials in our Consciously Crafted collection. Not just for a healthier planet, GRS help to maintain safe and ethical working conditions for craftspeople too. 
What's more? For every purchase from the collection, a tree will be planted in your honour. Collectively, these trees will help to restore forests, provide better air quality, and safe habitats for wildlife. 
Here are just some of the recycled materials you can find in the range…

Apple Leather
A fruity invention and a clever leather alternative, that's made from the waste of apple processing from the food industry.

Recycled Microsuede
With the look and feel of the real deal, this material isn't even suede at all. In fact, it's made with 51% polyester that's spun from recycled plastic.

Recycled Polyester
A hardwearing material made with 50% polyester that uses less water and energy to produce, while saving plastic waste from landfill.

Recycled Microsuede
50%-70% of the rubber is recycled, helping to decrease deforestation and reduce CO2 emissions that would be produced with raw rubber. 

Planet Positive Materials
Recycled materials are just the start this collection of trainers, you'll also find materials that are kinder to the environment too…

Bamboo Blend Textile
Durable yet soft, bamboo is a renewable and sustainable alternative to cotton. It's one of the fastest growing plants on the planet and can absorb 36% more CO2 than hardwood trees.

Organic Cotton Laces
Organic cotton is grown without the use of harmful pesticides to protect the cotton farmers and lessening the impact on ecosystems.

How to make your Consciously Crafted trainers last
Choose Well
Treating your planet friendly shoes to a little TLC is the obvious way to keep your trainers looking good as new, but there's a secret to ensuring your footwear will remain a mainstay in your wardrobe, and that's by choosing well. 

A good pair of trainers can last you years but as trends fluctuate, picking the trainers that work well with your personal style is an essential part of ensuring their longevity. Find a pair that fit well, feel comfortable, and have the versatility to wear with everything you already have in your wardrobe.

Take Care
Giving your trainers a regular clean is one of the greatest acts of care you can make for your wardrobe, shelf-care if you will. Plus, the process of cleaning can also be mightily satisfying too. 
Maintaining your trainers means they can be appreciated for longer, so there's no need to replace them when the next season rolls, a win-win for the environment… and your bank balance. 
Yes, trainers are meant to get dirty, but equally they're meant to be cleaned with this trainer care guide.

How to Clean Your Eco friendly Trainers
1. Remove the laces and set to one side. Use a soft bristle brush or toothbrush to remove any dry grit and mud from your trainers. 

2. Mix a small amount of mild detergent with lukewarm water and use a soft brush to apply a small amount at a time, we recommend patch-testing in a less visible area. To fully protect your trainers, go easy on the strength of the soap. 
3. Once cleaned, wipe clean with a microfibre cloth to remove as much of the excess soap as possible. 
4. If your laces need a clean, use the same soap solution to gently remove any stains with your hands. 
5. To keep your trainers in shape, stuff with newspaper and leave at room temperature to dry. Avoid any direct heat as this can cause cracking. 
6. To maintain your trainer's brand-new look, use a protecting spray, just play close attention to the instructions to avoid any damage.

Share this post