A guide to wearing flat shoes
Posted by Jones Bootmaker on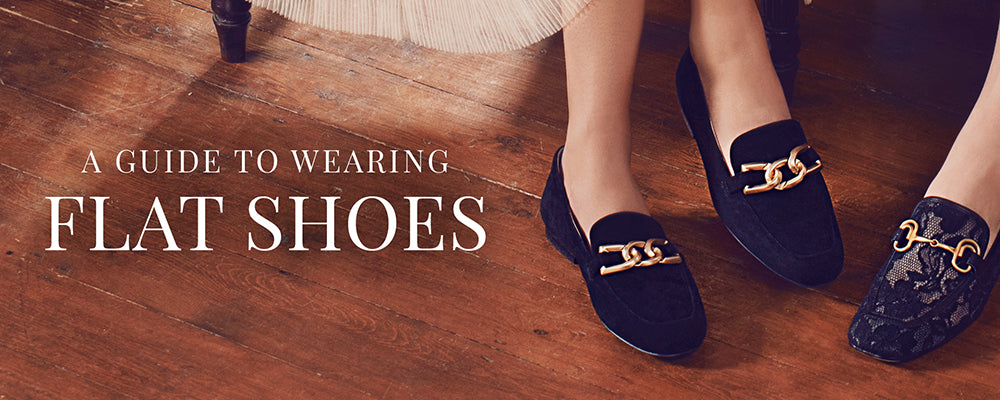 No item in your wardrobe works harder than a good pair of flat shoes, 'investment piece' is a term that often gets overused, but a good pair of flat pumps stick true to their word where refreshing your wardrobe is concerned. Elegant and easy to wear, flat shoes are the effortless alternative for dressing for the day or evening and they certainly won't look out of place, especially in the new age of dressing.
As we transition into the new season, there's no better time to re-stock your capsule wardrobe with time-tested favourites than now. As the boundaries for smart casual style have been blurred, flat shoes like pumps, loafers, and moccasins are more relevant than ever.  

How to wear flat shoes
While we all love variety in our wardrobe, flat shoes are the key style that we will wear on repeat and never tire of, be it ballet pumps, moccasins, loafers, or pumps there's boundless styling opportunities that will cover all bases be it weekday, weekend, day to night. 

While they are the shoes that may seem simple and elegant, there's a true art to styling flat shoes to keep them looking chic (and not frumpy).  So, before you invest in your next addition for your arsenal, we've rounded up a few key style rules to consider …
Pull out key outfit pieces that will work well with your flats, pay attention to the types of trousers or skirts that you'll be wearing noting where the hemlines will sit on your leg or ankle. If you are more familiar with a pair of heels, you may need to give the illusion of a longer leg, so try out a few options to see what works best for you. 
Keep things coordinated by matching the colour of your flats with your accessories like your handbag and belt, it's a simple way to keep your outfit looking effortlessly chic.
Comfort is king where flat shoes are concerned, so go for a pair of pumps with plenty of internal cushioning and support, you'll thank them for it at the end of the day.

Typically, flat shoes like ballet pumps and loafers are meant to be worn without socks. That being said bright tights and patterned pop socks are likely to be spotted this season, so if you're feeling adventurous, team your flats with colour pop tights and vintage inspired patterns, just remember to go for sheer fabrics and avoid thick woolly socks.

How to wear flat shoes with jeans
Nothing in your wardrobe works harder than a good pair of denim jeans and a pair of flat shoes. Sleek and uncomplicated, wearing flat shoes with jeans is a sure-fire outfit option that will work both on and off duty, every time.
Wearing flat shoes for work
If you're allowed to wear jeans to work, consider yourself lucky! Wearing denim and a pair of flats makes getting dressed for work, well, less hard work, plus it's an outfit that will look the part long after you've clocked off. When wearing jeans for work, it's vital that you still look presentable, a first impression is a lasting one after all, so for a well-turned-out look, start with the shoes. 

Flat pumps and black jeans make a good foundation for a business casual outfit, throw on a preppy pair of ballet flats or leather loafers with a high neck Bretton jumper and checked blazer for a failsafe smart-casual look. Make sure that the hems of your jeans skim across the ankle for leg lengthening appeal and finish the look by colour matching your handbag and belt.

Casual jeans with flat shoes
You'll be forgiven for finding the monotony of causal dressing very tiresome, after all jeans have been a faithful wardrobe staple over the course of the year. So, if you're ready to spruce up your day-to-day dressing and retain the sense of comfort we've grown to love, flats and wide leg jeans might just be for you.

Wide leg jeans are slowly surpassing our love for skinny jeans, and they look just as good with a basic tee as they will a vintage inspired blouse - we're thinking a crisp white smock with ruffled collars and lapels. Match classic blue denim jeans with a pair of tan flats, a pointed pair of pumps will keep your outfit feeling put together while still retaining a weekend-appropriate look, or go for a pair of ankle boots should the chill kick in.

How to wear flat shoes with a dress
When wearing a dress with flats shoes the key rule is to draw the eye up the body, so look to add shape around your waist with either a fitted dress or with the help of a waist belt. A hemline that sits below the calf can give you a shorter appearance, by showing more of your lower leg or displaying the ankle which is narrowest point of your leg it will make you look taller.

To keep things classic match the tones of your shoes with the rest of your outfit, a nude pair of flats will work well with crisp whites and champagne palettes, try cotton dresses cut to the knee for an easy daytime look or flowing ankle length dresses for an elegant (and altogether comfortable) evening option.

Share this post