Best Dressed: Barbie Edition
Posted by Jones Bootmaker on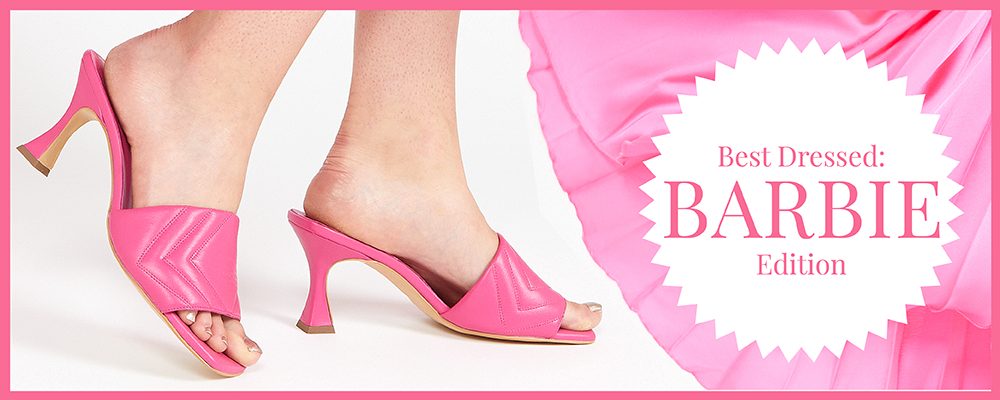 From the Dreamhouse to the Catwalk, everyone's embracing Barbie-inspired Fashion. Step aside, black-on-black, this season we're brightening things up. From the runways to our wardrobes, the bold bright Barbie-inspired aesthetic is here. Think flares of fuchsia, pops of pastel and embellished everything. It turns out, life in plastic is fantastic. 

In celebration of Barbie hitting the big screen we've compiled some of our favourite looks from the pink carpet. And if you want to steal Barbie's style? We've got you covered. 
come on barbie, let's go party 
Barbie herself does it best.
Inspired by the vintage 'Enchanted Evening' Barbie from the 1960's, Margot Robbie is a classic beauty in a custom Vivienne Westwood gown. Pastel pink pairs perfectly (say that three times fast!) with bejewelled stiletto heels. 
Feeling inspired? Our stunning MENBUR diamante heels are truly a girls best friend. 
Nothing screams Barbie's signature style like a hot pink mini dress. Issa Rae sizzles with matching fuchsia accessories and understated strapped heels. 
If you want to inject some Issa into your style, slide into our stunning BERTILLA heeled mules. Your splash of sparkling sass. Adorned with shimmering diamantes, these shoes bring Barbie in every step. The mid-height heel and cushioned insole keep your strut comfy, whether you're dashing through your day or lighting up the night.
Molten metallic heels? Tick. Sultry straps? Tick. Bejewelled accent details? We'll meet you at the Dreamhouse. 
Dressing like Barbie doesn't have to mean drowning in bubble-gum pink (unless you want to, of course!). Shay stuns in a short black bell-shaped dress with white trim and bow detail. Mixing modern with a nod to 60's mod styling, she completes the look with a thick headband and winged eyeliner. 
Our verdict? Mitchell creates monochromatic magic. 
If like Shay, you want to put down the pink and still pull off a Mattel-worthy moment, meet LIEZEL. Sky-high smooth leather straps and block heels as sturdy as they are stylish, LIEZEL is the sandal for every summer adventure. 
Ken may be just another of Barbie's accessories, but at the premiere? Ryan Gosling takes centre stage. Dressed in head-to-toe Gucci, Gosling's pale green suit and white loafers are ready for an 80's Barbie beach bash. 
Looking to channel some Ken-ergy at your next evening event? Try NATHANIEL. Our signature double monk strap shoes in smooth leather adds a sharp, modern touch to the traditional silhouette. Distinct details meet daring design to create any Ken doll's dream shoe. 
Michael Cera plays 'Allan' in the upcoming film, a toy boy originally created in 1964 and given the admittedly ambiguous role of 'Ken's Buddy'. Dressed in dusty pink and soft suede loafers, Cera proves once and for all that 'there's only one Allan'. 
If you're feeling bold, ROBERTO is the cherry on top of any rose-tinted outfit. Crafted from rich suede, ROBERTO exudes a classic charm with a modern twist. Traditional penny slot? Check. Smooth vamp? Absolutely. 
Soft suede penny loafers with a playful pink suit? Sorted. Now... which way to the beach house? 
Share this post