What Are Boat Shoes?
Posted by Jones Bootmaker on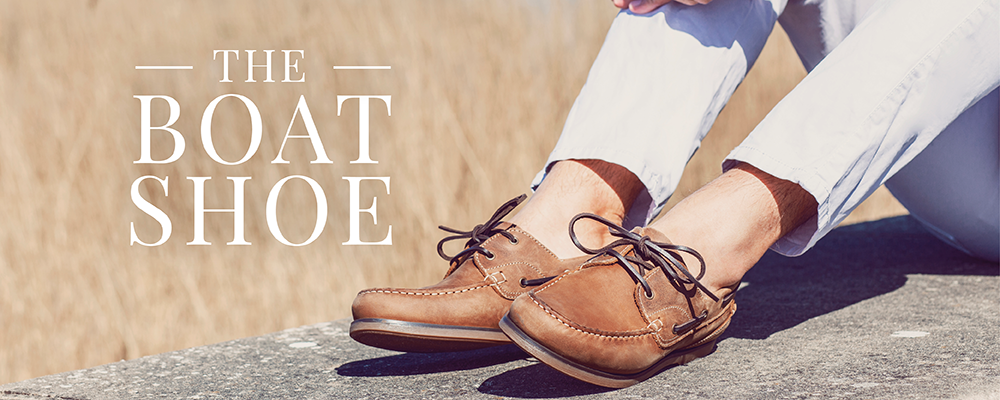 They say a smooth sea never makes a skilled sailor, and that's case in point for the boat shoe. A true master of the ocean (and land), there is no footwear quite like boat shoes. Comfortable, classic, and crafted with quality, the boat shoe even has the ability to age well, so there's a reason why they're a favourite year after year. 
Originating from the Long Island in 1935 thanks to Sailor Sperry, the boat shoe has evolved from being a practical shoe for yachtsmen, to standard issue shoes for the US Marines and into a style staple for the modern day. 
Read on to discover more about boat shoes, and how to wear them.

What are boat shoes?
Boat shoes, aka deck shoes, are usually made with a moccasin construction (where the leather sits underneath the sole and is built around your foot).

Typically crafted with soft leather like nubuck, boat shoes are renowned for their comfortable fit, as the supple materials will shape to your foot over time to give a fit that feels made for you as soon as they're slipped on. 

The most traditional boat shoes usually have a 'one-lace system' where the leather cord laces surround the foot and are tied at the front. Its purpose? To give an exacting and comfortable fit. No slipping heels on deck please.

But what's a boat shoe without a practical sole? The final component of the boat shoe is its rubber sole. Essential for keeping traction on slippy surfaces, look out for razor-cut 'siping' (aka gripped support) across the sole, the ultimate tonic for sea legs.

The Story (so far) of Sperry Shoes
Sperry are makers of the original boat shoe, which are still held in high regard today. Crafted with a genuine moccasin construction, their shoes are hand-sewn with high quality leather, rust-proof hardware and of course, the razor cut sole that started it all…



A man, a boat, and his dog
The original boat shoe was created by Sailor Paul A. Sperry in 1935, one evening on the Long Island Sound. 
After falling overboard, Sperry took inspiration from his faithful sea dog, Prince, who retained balance on the rough sea. Imitating the grooved patterns of his dog's paws, Sperry carved slits into the rubber soles of his shoes, creating the world's first non-slip deck shoe.  
Sporting the same 'siped' sole originally mastered by Sailor Sperry, 500 prototypes were sent to fellow yachtsmen across America, and the good news soon spread, where it became the footwear of choice amongst mariners. By 1940, Sperry was named as the official shoe of the U.S. Navy. 


THE OFFICIAL PREPPY SHOE
Worn by the likes of John F. Kennedy and Hollywood celebrities in the 60s, the boat shoe was no longer just for seafarers. The Official Preppy Handbook published in 1980 by Lisa Birnbach, secured Sperry's spot in preppy history, identifying it as the essential shoe to wear on university campus, in country clubs, and prep schools. 
Fast forward a couple of decades and the boat shoe remains a staple style recognised for its quality, worn both at sea and on land.
HOW TO WEAR BOAT SHOES
Summer and its many joys are waiting on the horizon, be it seafaring excursions abroad or leisurely days at home. If there's a moment to immerse yourself in the world of boat shoes, it's now. So, one question remains. What to wear with boat shoes? 
Chinos or cargo shorts with buttoned or polo neck shirts are certain to remain a classic outfit choice year after year. Stick to classic nautical colours of tan, navy or white to embrace the timeless nautical aesthetic. 
Want to switch things up? Boat shoes are a great alternative to trainers, just as comfortable they'll tick all the smart casual boxes, while mixing up the monotony of jeans and trainers. To keep things casual wear tan leather shoes with light denim. As for smarter moments? Dark leather boat shoes with deeper shades of denim can be quite the catch.

What socks to wear with boat shoes? 
Ah, the age-old question. Socks or no socks? It's a personal preference that's as unique as you are. 
For the traditionalists amongst us, the rule of no socks on deck is something to uphold. The logic? Boat shoes made with soft leather and one-lace systems are designed to be close-fitting to your feet, meaning they'll fit comfortably without the need for an extra layer of socks. 
Can't stand the thought of bare ankles? We hear you. Socks and boat shoes make total sense. Go for long ankle socks so that the tops won't be visible should your trousers ride up. Want to go one extra? Slip on a pair of cable knitted socks for a subtle nod to your shoe's preppy heritage.

Share this post