Care Guide: Leather Trainers
Posted by Jones Bootmaker on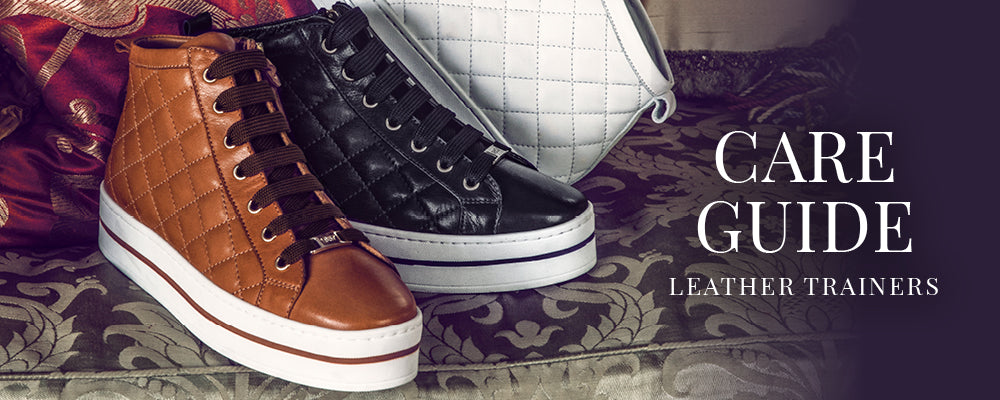 Leather trainers are a contemporary staple in any capsule wardrobe. Whether you are wearing them with a pair of jeans on the weekend, or with laid back tailoring for casual Friday, leather trainers are a stylish and reliable stalwart in our closets. Offering endless styling options and opportunities, leather trainers often incur the pleasure of becoming one of our most worn pairs of shoes, leading to the need for correct care and maintenance. We have compiled a few of our favourite tips and suggestions for keeping your Jones leather trainers in beautiful condition wear after wear. 
How to clean leather trainers
So, you have purchased a beautiful new pair of leather trainers, but what is the best way to clean and look after them? No matter how hard you try to keep your box fresh white trainers that perfect shade of white, inevitably, life gets in the way. But don't panic, there are ways to clean and maintain your leather trainers to keep them in tip top condition. We recommend giving your leather trainers regular cleaning in order to remove debris which  can build up over time. Firstly, remove the shoelaces and set aside, you can clean these easily using warm water and washing detergent, or they can be replaced affordably for a fresh pair. Next, remove any dirt or debris from the leather trainers with a dry cloth or soft brush. Leather uppers require regular treating with a high-quality shoe cream in order to maintain the suppleness and hydration of the leather and prevent drying and cracking. Apply the shoe cream to the uppers of the shoe to nourish and condition the leather. For an optimum conditioning treatment, leave the shoes with the product on for two hours before buffing out the excess cream with a soft cloth. If appropriate for your trainers and the look you wish to achieve, you can also always use a wax polish to protect the leather and give a high shine finish. We recommend applying the product to the upper in small circular motions. 
How to soften leather trainers
Depending on the structure and materials of your trainers, a little 'softening' may be recommended to make them more comfortable. This is very simple to do and will ensure that your shoes give you optimum comfort. Similar to 'breaking in' new shoes, slow and steady is the ideal route to take. Before embarking on a long day in a new pair of trainers, we would recommend giving them a few wears first to help soften the leather. A great place to start is wearing them around the house, and after time the trainers will begin to soften and mould to the shape of your foot. 
Are leather trainers waterproof?
Leather is a natural and porous material, meaning that it is not waterproof. In the case of getting wet, it should always be left to air dry and not placed near any direct heat in order to preserve the shape, fit and colour of the leather. Wooden shoe trees are a great solution to keep your shoes in shape when they are not being worn and will absorb any moisture from within the shoe. Products such as 'waterproofing sprays' are available which will help aid the leather to resist the water, however due to the nature of the material leather will never be 100% waterproof. 

How to protect leather trainers
Here at Jones, we believe that prevention is better than cure. We recommend protecting your purchases against the elements before wear. Use a quality leather protector over the product per package instructions, taking care with areas of detail. We recommend compiling a compact set of cleaning kit essentials so that you are always prepared to clean or prepare your shoes or a new purchase. The ideal care kit would have a shoe cream, horse hair brush, wax polish and lint free cloth. You can shop our extensive selection of shoe care products here. 
Can you machine wash leather trainers?
No, we would never recommend you machine wash your leather trainers. This could weaken and destroy the leather and may also weaken the bonding materials used in the creation of the trainers. Plus, it could also damage your washing machine. 

How to style leather trainers for her
The pandemic brought about many changes in the way we dress, even the most passionate high heel obsessives found themselves wearing slippers and trainers, and now as we start to go out more, our love for comfort remains. Offering truly endless styling opportunities, Jones' latest collection of leather trainers are ready for whatever may be on your agenda. Look to premium materials to give a polished look that won't look out of place paired with tailoring, and opt for simple silhouettes which blur the line between athletic and fashion. Elodie's low cut profile and lightning bolt motif gives a touch of attitude, perfect for styling with jeans and a trouser suit alike. In order to give an evening edge, emphasise the shimmering detailing by drawing upon the metallic tones for outfit inspiration. Not to be dismissed, the white leather trainer has transcended into becoming a true fashion classic. Endlessly versatile, a white trainer looks as at home with sharp trousers as they do with a wide hem midi dress. For a subtle twist, look out for luxe detailing, such as Elenore's quilting, to elevate your look to the next level.
How to style leather trainers for him
For him, leather trainers have become a natural extension of smart casual style. Ready to be worn with wool trousers, cords and jeans alike, Jones' latest offering is imagined with luxury, and the environment, in mind. Sandro, for example, is part of our recent sustainable trainer collection. Crafted in Portugal from responsibly sourced materials, the Sandro trainers are sculpted with recycled leather uppers and are poised on recycled rubber soles, with planet-friendly organic cotton laces. Alluding to 90s streetwear, our high top trainers are imagined in an extended silhouette which slips under a pair of tailored trousers with ease for the perfect high-low juxtaposition. For a monochrome look, Sabatino's all white profile is the perfect backdrop for athleisure wear and office wear alike. Extra style points for the his-and-her coordinating moment. 
Share this post