Father's Day Gift Guide
Posted by Jones Bootmaker on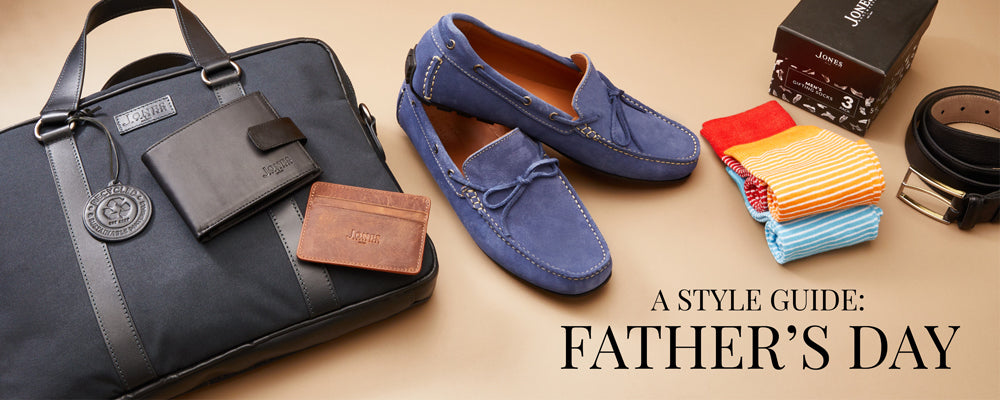 Father's Day is on the horizon.  
Many of us are looking to celebrate (and spoil) the father figures in our lives. Dads, stepdads, new dads, grandads, uncles, fathers-in-law, let's raise a glass to the men who made us who we are.  
Dads are notoriously difficult to buy for. We could spend the whole year choosing a gift to show how much they mean to us, and still miss the mark.  Our advice?  Ditch the ceramic mugs and coffee table books and instead, invest in quality footwear, crafted from rich leathers and soft suedes. 
In this gift guide, we've handpicked a selection of expertly crafted shoes and belts to help you find a luxury gift for the father figure in your life. Give him the footsteps you'd be proud to follow in (and borrow when he's not looking). 
The Best Gifts for Father's Day 2023
No wardrobe is complete without a classic leather belt to pull an outfit together. Endlessly useful, a good quality belt will elevate any look, from desk to dancefloor.
For longevity, leather is best. Choose a versatile colour – brown, black, or tan. Oh, did we mention that all our belts arrive in a luxury presentation box? If you're after a sure-to-be-worn present ideal for Father's Day? Look no further.

Uxbridge Leather Belt
Adjusted by a silver-toned buckle, this artfully crafted leather belt offers simple and enduring elegance. Paired with denim or twill, our Uxbridge belt ensures a smart sign-off to every look. 
UXBRIDGE
Upminster Leather Belt
Classically constructed in grained leather, the Upminster trouser belt is designed to withstand the test of time. Finished with a silver-toned square buckle for contemporary edge. 
Upminster
 Suede LOAFERS
A classic cut that he's sure to love, espadrille sandals are ideal for fathers who look forward to holidays abroad and warm weather at home (while fanatically refusing to apply sun cream). 
Suede slip-on espadrilles offer effortless styling – and pair perfectly with shorts and summer tees.

We recommend choosing loafers with high quality construction to deliver Dad a summer staple that he can return to, summer after summer. 

Our Ramsgate loafers are crafted by traditional construction. From office hours to after hours, the supple suede of the Ramsgate loafers are finished with leather linings and a leather insole for ultimate comfort.
Leather Sandals
Stuck on the perfect surprise for the jet-setting dad in your life? How about a pair of slip-on sandals for his next sun-soaked adventure? 
Cushioned footbeds and flexible soles are a must for day-to-night comfort. A lightweight style and slip on design is an essential for any holiday. You pack the suitcases, wse'll handle the sandals. 

Our Eli leather sliders offer a clean-cut approach to relaxed dressing. Crafted In supple tones and smooth leathers, Eli takes a classic slider sandal and transforms it with a luxurious spin. The mule sandals feature a duo of smooth leather straps, a perfect choice when the heat kicks in. Pair with everything from jersey shorts to linen trousers.

Pair with everything from jersey shorts to linen trousers. 
Eli
Vintage-inspired Kicks
Our timeless designs prove that you can't improve on a classic. A pair of retro-inspired trainers present an opportunity to upgrade Dad's style without straying too far into unknown territory.  Leather construction strikes the balance between style, comfort, and durability.  A classic cup sole is a must. 

Sutton's leather construction, inside and out, offers all-encompassing comfort. The coordinated shade of the uppers, laces, and cup sole make Sutton stand above the rest. Perfect for your old man, whatever his age. 

Smart Shoes
Some dads would never dream of being seen in anything but slick Derby shoes and lace-ups. Others need a gentle push in the direction towards a smarter style. 
Whether you're looking to keep in line with Dad's smart-casual style or can't resist the chance to spoil him, a pair of smart shoes are just the ticket this Father's Day. Our top tip? Smart doesn't mean uncomfortable. 

Our Parsons leather boat shoes will be the focal point to every casual ensemble this summer. Crafted in Portugal, the pull-up leather uppers and traditional rubber sole are ideal for dads on the go. 
Parsons
Riverside is our reimagining of the classic loafer, crafted from intricate woven detailing across the upper and sides. The fully woven leather upper leads to a supple leather insole, giving full foot comfort. Perfect for teaming with off-duty denim or chinos. 

Riverside
Share this post