Style Guide: How to Wear Chunky Boots
Posted by Jones Bootmaker on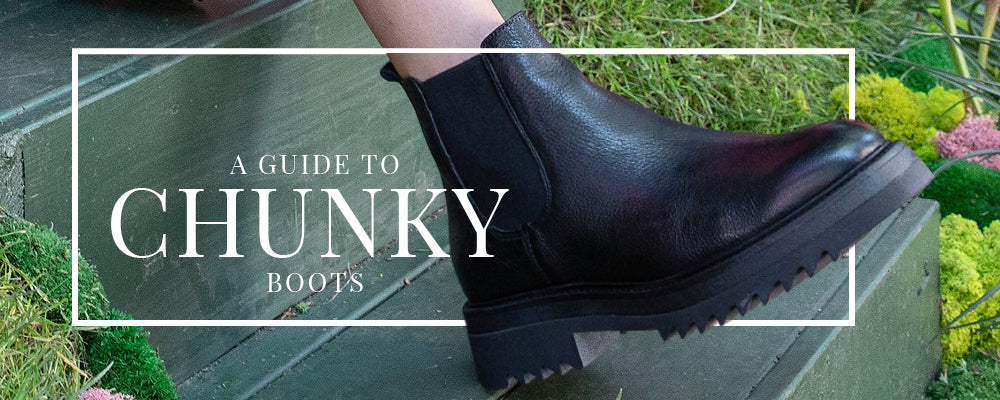 If there's one thing you'll be wearing on rotation for the next few months, it's a pair of women's boots, more specifically chunky boots. The buzz of footwear in pumped-up proportions is showing no signs of slowing, in fact boots with bold platform soles are here to satisfy your craving for effortless dressing for the foreseeable.   
For starters, stomper boots are infinitely versatile. Perfect for those wanting to invest wisely in their perennial wardrobe, chunky boots are not exclusively reserved for the winter months, they'll also be the cornerstone to your summer capsule too. So, whether worn with your silky slips on balmy days or stomping through frosty mornings, chunky boots are easy to throw on and will seamlessly adapt to suit every agenda and every mood. 
The comfortable nature of pumped-up soles are not to be underestimated, they provide the perfect blend of form and function. In equal parts cool and comfortable, stomper boots are a definite go-to for the woman who wants more from her footwear, they're the kind of boots that will command attention, whilst keeping you looking cool and feeling comfy. 
Finding the perfect boots to suit all scenarios requires a little extra legwork, with numerous bold shapes and larger-than-life silhouettes to consider- be it chunky Chelsea boots, biker boots, or knee-highs – there are many variables to consider.  We've rounded up an essential guide on how to style chunky boots that will lay the essential foundations to future-proof your wardrobe …
What to wear with chunky boots
Chunky boots are the do-it-all staple and will add a playful and powerful statement to your every look. For a simple everyday outfit that looks well-put together, chunky ankle boots will pair well with blue jeans and a tailored blazer. Meanwhile chunky black boots will bring a bold new edge to your workwear attire, wear knee-high boots with a structured pinafore dress and roll-neck tee for a decidedly retro-inspired look.
A forever purchase, chunky boots will prove to be the hard-working staple that will pair effortlessly with everything in your sartorial collections. Black combat boots are just the ticket for those who want a trans-seasonal pair that will take you from dawn to dark. Their hardy appearance may take inspiration from utilitarian silhouettes, but they'll barely put a foot wrong, especially when worn with traditionally feminine silhouettes. As Christina Miller demonstrates with our Paris combat boots, hardy lug soles will perfectly balance out floating hemlines and ditsy prints. 
How to wear chunky boots with a dress
The winning style combination for 2022? Chunky boots and dresses. Supremely comfortable, chic, and easy to throw on, this is the leading outfit formula that will translate your every look for this season and the next, whether dressing for work, the weekend, for the morning or after-dark.
Bold stomper boots make a solid foundation for many an outfit, and a chunky pair of Chelsea boots make the perfect contrast to whimsical dresses, think floating, floor skimming hems with opulent embroidered embellishments. For a cohesive look, match the colour of your boots with the tones and print of your dress and accessories.
A long-knitted dress and a pair of chunky boots are an outfit combination that couldn't be easier, ideal for a quick business casual look that you can throw together at a moment's notice. Make your knitted jumper outfit stand out from the rest by going tonal, coordinate honey-hued suede knee boots with chocolate shades in your outfit. Chilly outside? Layer up the look by adding a shearling coat in matching tones and a pair of sheer tights.
Chunky lug soles make a cool contrast to maxi dresses, appropriate for the winter months this is a look that will adapt to suit warmer climes too. Black chunky ankle boots with elevated soles will step you through every eventuality oh-so practically, whilst remaining effortlessly chic. Perfect for layering, finish the outfit with a slouchy knitted jumper and a tailored jacket. 
How to wear chunky boots with jeans
We all need those throw-and-go outfits and one of our favourite ways to style up a pair of jeans is to slip on a pair of chunky boots. A pair of Chelsea boots are just the ticket for adding a classic spin on your casual ensembles, considered the 'style basics' of a wardrobe, the pairing of jeans and chunky boots are anything but, especially where their style potential is concerned.
For a smart casual outfit, mom jeans are a must. Their flattering high-waisted silhouette will give the illusion of longer legs and by cropping the hems of your jeans with a little turn-up, you'll show off your boots in all their glory. To shake up your smart casual uniform, go for a white pair of jeans and keep it tonal with dark brown boots and match up the hues with accessories like your belt and bag. To finish the look, throw on a button-down satin shirt with a simple camisole and layer up with a cosy puffer jacket.
It's no surprise blue jeans and flat chunky boots are the front-runners for casual days on-the-go. Practical with a focus on comfort, chunky boots will step you through everyday errands while keeping your ever-faithful blue jeans looking refreshed. 
To adapt your blue jeans to the winter months, go for a lightweight roll-neck jumper tucked into your jeans and embellish with gold-toned jewellery, pull the effortlessly casual look together with a tailored statement blazer.
Share this post