How to Style Flatforms
Posted by Jones Bootmaker on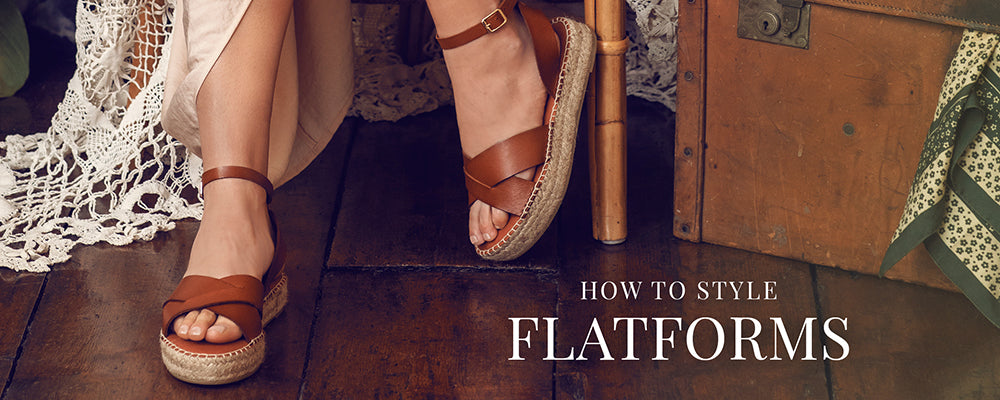 When it comes to footwear, a boost of height can not only elevate your soles, but elevate your soul, too. Platform sandals have reigned supreme in the fashion world ever since the 1960s, but their equally cool (but more wearable) update, 'the flatform', is a welcome addition in the arms of women who like a side of comfort with their style. Seen all over the catwalks in recent seasons, we take a look at what makes the flatform so comfortable and what we will be styling ours with for the upcoming season. 
What are flatform shoes?  
Flatform shoes are an innovative hybrid combining the style of a flat shoe with the boost of height of a platform. Giving us the best of both worlds in a fashion and comfort sense, a flatform is a shoe which has a platform but no heel, meaning that the whole outsole of the shoe sits on the same level. This gives the boost of height you would usually get with a platform or a heel, with the ease of walking in a flat shoe. Seen upon brogues, sandals and trainers alike, flatforms are a fantastic way to elevate your stylings in a very wearable way.  
HOW TO STYLE FLATFORMS  
When it comes to what to wear flatforms with, the styling opportunities really are endless. When it comes to trainers, a flatform gives a sophisticated and contemporary edge that looks fantastic with near enough everything. For a cool take on classic tailored trousers, try a crisp white t-shirt and white leather flatform trainers. Or, for the best dressed casual Friday award, pair your flatform trainers with straight leg jeans and a boxy blazer for a laid-back take on tailoring.  When it comes to flatform sandals, they are the ultimate wardrobe multitasker. You can dress them up with ease with a wide hemmed midi dress, or keep it casual with a pair of printed palazzo pants or off-duty jeans. Plus, you can always take the flatforms back to their heritage and tap into the unstoppable 1970s trends with a pair of flares or a big floral print. 
Are flatforms comfortable?  
Absolutely! Flatforms are a very comfortable way to have a boost of height without the sore feet that come with a long night in a pair of high heels. Due to their 'flat' sole nature and platform, there can be little room to bend the foot whilst walking, so it would be best to practice walking in the flatforms a few times before embarking on wearing them out. When walking, aim to keep the weight over your heels, not projecting it onto the ball of your foot, so that your ankles do not have too much pressure. If you are unsure about wearing flatforms or platforms, start off by trying a pair with a wide strap, which offers more support, or ankle straps which, as well as looking gorgeous, can help spread the support across the whole of the foot.  
HOW TO WEAR FLATFORM TRAINERS 
Flatform trainers are a great addition to any capsule wardrobe as there are so many ways to style them. The chunkier outsole adds a more stylish, contemporary finish to the trainers, making them the perfect choice to contrast with more formal looks such as tailored trousers or a two piece suit. As, post lockdown, we adjust to a more comfortable way of dressing after months and months wearing only at-home looks, flatform trainers are a stylish choice which will ensure that you stay comfortable too, even on the longest of days in the office. Providing the perfect balance of style and comfort, flatform trainers style effortlessly with athleisure looks, jeans, and floral midi dresses alike. A contemporary classic, a pair of white leather trainers such as Amira or Adrianna, will offer remarkable versatility, and will look great teamed with a bright, candy coloured two piece pant suit and white t-shirt for the office.  
What to wear with flatform sandals
Flatform sandals are a true summer multi-tasker thanks to their endless versatility. Casual enough to wear for a lunch by the beach, yet dressy enough to style for an evening out, there are a countless number of ways to style flatforms whether for daytime or evenings. Due to their more chunky profile, they look great paired with wider hems that offset the thicker outsole, for example a pair of cropped wide jeans, or a floaty cotton midi-length sundress. For a touch of attitude, try pairing a pair of chunky sandals such as Dominique with blush tones and sweet florals, contrasting against the defined treads and metallic buckles. Or, for a more feminine style, the Agnes leather flatform sandals are a great choice which will look fantastic with everything from light linens to reliable denims.  
WHAT TO WEAR WITH FLATFORM BROGUES? 
Flatform brogues, such as the Leather Flatform Brogues by Caprice, are another great choice to add a subtle boost of height to a comfortable shoe. Ideal for the office, flatform brogues are well loved thanks to their smart style and comfortable wedge. Loved by celebrities such as Holly Wilhouby, the brogues look great styled sweetly, tapping into the 'uniform' inspired trend with white shirts, pleated skirts and peter pan collars. The lace up styles look great with invisible socks, or for a fun look, try pairing them with a pair of sparkly or frilly socks to add to the look.
Can flatforms be dressy?
 Flatforms are a fantastic choice to dress up that will allow you to dance the night away on the dancefloor pain free! A sandal is a great choice for an evening, and something with delicate straps or ankle lacing can give the perfect flirty finish to an evening or occasion look. Why not try opting for a metallic choice, such as the Arianna Espadrille Platform Sandals which will look great twinkling under the moonlight, and will pair fantastically with any shade? 
Share this post