How to Wear Moccasins
Posted by Jones Bootmaker on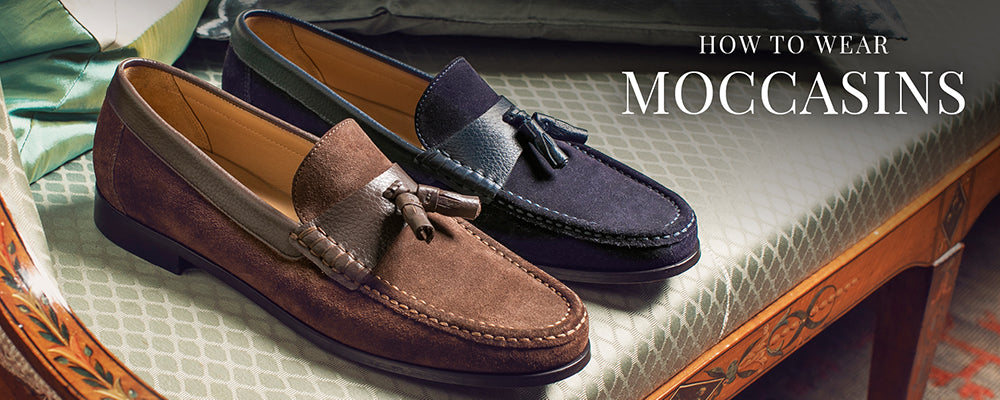 For a practical and preppy twist nothing hits the brief better than a faithful pair of moccasins, you may consider the faithful moccasin to be a shoe that is reserved for casual settings but with a little style know-how you'll be slipping them on for work, the weekend, and everything between.
With the return of the 9-5 and special occasions back on the agenda, we need a pair of shoes that stick to their guns where comfort is concerned (our love-affair with our house slippers will never truly be over.)
Whether you're devoted to classic dressing, or you prefer something a little more casual, moccasins will form the solid foundation to every well-considered wardrobe. As timeless (and comfortable) as it gets, moccasins are the ultimate footwear choice that promises to ease us into every agenda. 
What are moccasins?
A genuine moccasin is crafted with a single stretch of leather which forms the insole and the quarters of the shoe, another stretch of leather gathers at the edges of the quarters to create the classic apron seam.  
The driver moccasin is the most popular choice of footwear amongst gents, flexible, comfortable, and breathable the driver sole is usually characterised with rubber pebbled studs, exposing the traditional leather moccasin construction. The rubber sole or studs will extend above the heel to protect the shoe and add further grip, particularly when driving. 
Today, moccasins are famed for their unrivalled comfort and casual silhouettes, often crafted in soft leathers, nubucks, or suede, they're made to give supple support that fits your foot's form, so you can wear your mocs straight out of the box. 
THE HISTORY OF MOCCASIN SHOES
Considered the oldest form of footwear, moccasins are best known to be a traditional shoe of the Native North American population, however it is believed that the moccasin arrived in the North America over 30,000 years ago from Asia, where they were adopted by Native tribes and adapted to suit individual terrains and climates. Built from soft, supple animal skins, the moccasin was constructed without a hard sole to allow its wearer to feel the ground, making minimal noise.
What's the difference between loafers and moccasins?
Characterised by its lace-less design, the loafer is generally constructed with sections of leather and finished with a sturdy sole, whereas a moccasin is traditionally crafted from a single piece of soft leather which starts underneath the foot or the sole of the shoe and is then built around the foot, meaning there are usually less seams than the loafer.
What to wear with black moccasins
Moccasins are a semi-formal shoe, so for an office-appropriate look slip on a pair of black moccasin shoes with formal tailored trousers and a white shirt - unbuttoned at the collar, hold off from wearing a tie to really hit that sweet spot between smart and casual.
Mix and matching your smart and casual pieces is the quickest way to take the stiff formalities out of your suiting, but it's important to pay attention to the colours of the pieces you choose to avoid looking mismatched. Coordinate black moccasins with dark grey trousers and match the palette with a checked charcoal jacket, keep it fresh with a crisp white shirt or light grey roll neck jumper.
What to wear with brown moccasins
Brown moccasins are bound to work easily with what you already have in your wardrobe, it's important to set up some winning style formulas so you have an instant outfit that you can throw on and go. Stick to neutral tones and classic colours, like navy, when wearing your brown moccasins. Remember, the darker the colour, the smarter the shoe. 
So, for an easy off-duty look, pair tan suede mocs with navy chinos and a loose-fitting shirt, left untucked for a relaxed sign-off.  Deep shades of chocolate brown will make an appropriate choice for year-round wear, for an easy business-casual look go for blue suit trousers that skim above the ankle and pull on the matching jacket. Match the tone of your brown moccasins with a good quality leather leather belt to keep your look coordinated.
What socks to wear with moccasins
The age-old debate on wearing moccasins with socks or no socks is still ongoing, the meaning of style is subjective, so there's never been a better time to discover the answer for yourself than now.  
Moccasins are a truly timeless and versatile staple, so they'll work just as well with socks as the do without, that being said, it's important to take note of the outfit you'll be wearing.  
To keep your satirical looks classic, wear your moccasins with a pair of dark socks that match your suits. For the more experimental gents out there, opt for a bright and bold pair of socks with an ankle skimming pair of trousers to really make a statement. 
On the flip side, on warmer days you can skip the socks and leave your feet to breathe, great for slipping on with your tailored shorts and linen shirts.
How to wear moccasins in the summer
Moccasins were born out of the desire to be practical and comfortable, which makes them a fail-safe choice for the summer months. 
Team classic moccasin shades like navy and tan with beige chino shorts and a light polo shirt, for an easy summer look, throw on a light bomber jacket for after sundown. 
During the summer months, we recommend opting for soft leathers like suede and nubuck, not only will this promise a fresh, clean-cut look, but the soft and supple qualities of the leather will give a close and comfortable fit to your feet.
Share this post