Last-Minute Christmas Gifting Ideas
Posted by Jones Bootmaker on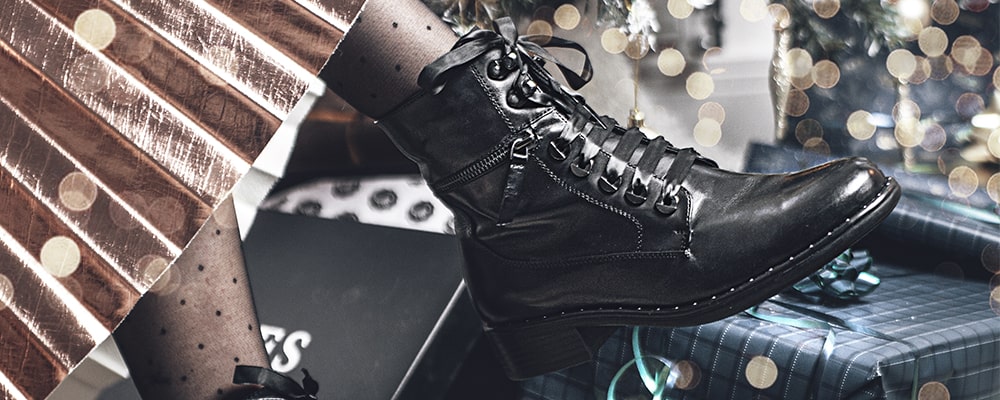 It's true, this year has been quite unlike anything we've experienced before but there's one tradition that remains the same, we've left our Christmas shopping until the very last minute, once again. Searching for
the
perfect
Christmas gifts
needn't be filled with woe (we've all got enough on our plates as it is), so we've compiled a comprehensive gift guide for those seeking magical, extraordinary, and joyful inspiration.
Put down the selection boxes and step away from the bubble bath set, last-minute Christmas gifting has never been so beautifully crafted. Cue the shoes and boots we have our eyes firmly fixed on, take note Santa …
Last minute? They'll never know.
Elin Black Stiletto Ankle Boots
For Her: Life After Lockdown ….
If ever there was a time to dress up in 2020, Christmas day is the day. Looking for simple yet elegant? It has to be our Elin ankle boots in black. Boasting a slinky silhouette, the pointed toe and stiletto heel holds all the versatility she'll need for the new year (plus they're in the sale) …
Kristian Goodyear Welted Brogue Boots
For Him: The Boots That Will Last
No ordinary ankle boots, this lace-up pair will not only look the part with pretty much every piece in his wardrobe, be it week or weekend, but these boots are made with the hardiest of shoe constructions, the Goodyear Welt. If he looks after them well, they'll last a lifetime.
Veronica Goodyear Welted Chelsea Boots
For Her: The Boots for Work or Weekend ….
Veronica will leave a lasting legacy for her wardrobe, crafted with the Goodyear Welt construction these Chelsea boots are quite simply made to last. When it comes to styling, they'll be the hardest working boots in her wardrobe whether she's back to the office or dressing for the weekend, it has to be with our Veronica brogue boots.
Simon Leather Trainers
For Him: Essential Back to Work Gear
If he's not ready to forgo his WFH wardrobe, Simon, our cup sole trainers offer the ultimate workwear solution. Crafted in rich tones of Cognac, these are the perfect trainers to wear to the office and the commute home, don't forget the Cormac backpack for good measure.
Barbour Lydia Slippers
For Her: Home Comforts
It wouldn't be Christmas without the slippers and Barbour's Lydia slippers are far from your average pair, featuring soft, fluffy linings and signature tartan trims they won't disappoint. Trust us on this she'll love to unwrap them (hint hint).
Huxley Waterproof Chelsea Boots
For Him: Wear Anywhere
Our Huxley Chelsea boots not only serve classic cool, but practicality too. Certified as waterproof they'll step him through any eventuality in 2021.
Jones Bootmaker Gift Voucher
Not what you were looking for? Give them the gift of choice with our E-Gift Vouchers and act like it was the plan all along. There's no need to hand deliver or wait for the postie, these vouchers will be sent via email so no unnecessary plastic or packaging, just a great last-minute gift sent straight to their inbox.
Christmas Delivery Dates
In our opinion, the best things really do come in Jones Bootmaker packages, but we'd hate for you to miss the last sleigh so make sure you place your order before Sunday 20th December 6pm for Standard Delivery or Tuesday 22nd December 6pm for Express Delivery. Whilst we are dispatching your orders out in time, please be aware that the Royal Mail are experiencing some delays, so we recommend getting your orders in asap! Just think, there will be a little extra time to perfect your wrapping!
Share this post