Most Wanted: The Best Trainers for Winter
Posted by Jones Bootmaker on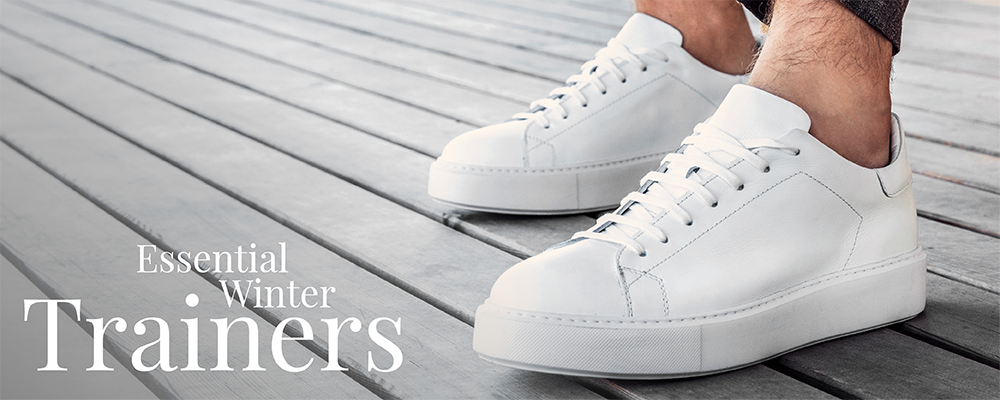 Traditionally, winter is the season for sturdy boots as we seek to enter hibernation mode. While we certainly have space in our wardrobes (and hearts) for a pair of Chelsea boots, the drive to wrap up can leave us prone to style ruts. 
Adding the right pair of winter trainers to your rotation will set you back on the right track, helping you keep your style fresh all season long. 
Think trainers can't compete with colder spells? Each pair of trainers in this collection has been constructed in high-quality leather, for premium trainers that are perfect for layering and set to step you comfortably through the season and beyond. 
Counting down our best men's winter trainers and women's winter trainers, discover the need-to-know tips and style tricks for how to wear trainers in winter, plus how to clean your trainers to maintain their box-fresh appeal.
How to Clean Leather Trainers
Ready or not, winter will throw all kinds of weather conditions your way. From mud to drizzle to the usual bumps and scuffs, taking care of your kicks from the get-go will ensure they last from one season to the next. 
It's worth noting that protection is the key to longevity. As soon as you've unboxed new trainers, it's best to spray them with a leather protector spray. 
To Clean Leather Trainers
Wipe the surface with a damp cloth to remove dirt. 
Stubborn stains can be removed using a mild detergent solution, warm water and your usual washing-up liquid will work wonders. 
Once you have wiped down the whole trainer, leave them to dry naturally. Avoid sunlight or hair dryers. 
Re-apply the leather protector spray to prevent future stains.
Rise Above
Platform trainers will see you striding over rain-slicked city pavements in style. 
Simple and clean-cut platform trainers lend themselves well to dense winter fabrics including wool blends and corduroy. Opt for key capsule pieces, such as a cable knit jumper, that will contrast the more modern aesthetic of your platform trainers. 
For Him 
Propped on a thick cup sole, consider the Sedbergh trainers a must-have for the season. Crafted in a minimalist silhouette, they feature smooth leather uppers and internals for a comfortable fit. 
Sedbergh
For Her 
The larger-than-life Amira platform trainers are set to take your looks to new style heights. Styled with a quilted outer for a luxurious finish, they're stacked on a chunky sole signed off with a stripe. 
Amira
Set the Tone
Winter is the perfect time to embrace warming shades of cognac, chocolate, and coffee foam cream.  
When it comes to the colour palette of your outfits, try out like-for-like: rich browns with other earth tones, and cream with neutrals. Need an extra layer of warmth? Subtly patterned or textured socks serve to pull the whole look together. 
For Him
Pared-back and comfortable, if you ask us, the Simon trainers are a wardrobe necessity. Pictured here in hearty cognac, they're constructed in smooth leather and set upon an Italian-made rubber cup sole. 
For HER
Put it in neutral with the Alayna trainers in stone. Carved from exquisite leather, these simple, sleek trainers excel when paired with your softest winter knits. 
The perfect addition to any minimalist edit this season. 
Alayna
Bumper to Bumper
Injecting new life into your ordinary edit, this season is all about athletic silhouettes that pay keen attention to detail, from suede overlays to wrap-around bumper treads. 
Athletic kicks will add relaxed charm to your workday ensembles, taking you from brake lights to break room lights and beyond.  
Pair athletic trainers with ankle-grazing trousers, roll neck jumper, and a wool-blend coat for a look guaranteed to go the extra mile. 
For HIM
A modern classic if ever we saw one, the Southend leather trainers will add cool edge to tailored separates. 
Created in full leather for a comfortable fit, they feature a spongy outsole with a textured tread from bumper to bumper. 
Southend
For Her
Changing up your style for the good, the Sebastiene retro trainers are crafted in a combination of butter-soft leather and suede. 
Set on a high-rebounding and flexible sole, they're signed off with a wrap-around rubber tread and heel guard. 
Sebastiene
Share this post