Styling Metallic Shoes
Posted by Jones Bootmaker on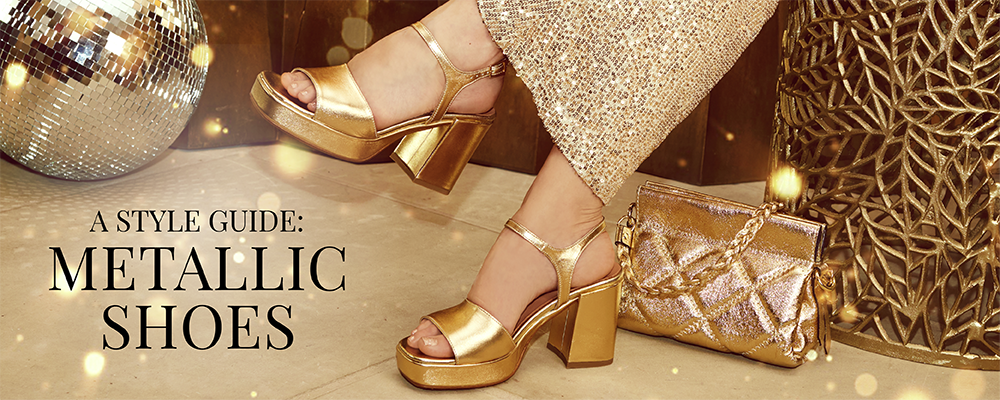 Are you missing out on metallics? 
Often reserved for campy Halloween costumes (think Dorothy's ruby slippers and Barbarella's thigh high silver boots) there's a myth that metallics are 'too much', 'too loud', or even (gasp) 'too tacky'.  We're here to set the record straight. 
We're shedding some light (literally) on one of the biggest trends to hit 2023 – metallic footwear. The sun's out, so let your shoes shout. From woven wedge sandals with added edge, to platinum platform heels, our style guide makes mixing metals easy, elegant, and eye-catching. 
All you'll need to do is walk into any room, and watch heads turn. 
It's a crying shame that metallic footwear is so often relegated to dark corners in clubs when nothing catches the sun quite like gold and silver sandals. Looking to inject that golden hour glow into your summer style? Sandals that balance classic craftmanship with high shine never disappoint. 
Our pick? Meet TABATHA. Proof that you can (and should) mix metals. TABATHA's trio of metallic leather straps and contoured suede footbeds are the only summer romance you'll need. 
When the heat hits, TULIP is a must-have.  An adjustable buckle strap makes a statement and provides a personalised fit. Sink into ergonomic insole and you're ready for summer. 
BELISA's the golden gladiator sandal you'll grab again and again. Smooth leather straps and a flattering flatform sole with raffia accents are born to sunbathe.  
Styling metallic shoes can feel daunting. Our golden rule? Stick to a neutral palette and let the sandals shine. Flowing white linen dresses are a match made in heaven. The crisp simplicity of soft linen in light shades contrast beautifully with molten metals, creating a look that's perfect for garden parties or sun-drenched strolls. A pair of well-fitted denim shorts and a loose, lightweight top create a relaxed yet refined look. Fancy something a little formal? Try tailored wide-leg trousers and a silk blouse. Metallic sandals add a splash of interest to an otherwise understated ensemble.
Never underestimate the power of a great pair of shoes. Elevating your look and your mood, nothing says 'look at me' quite like high shine heels that dazzle. 
Whether you reach for sky-scraping stilettos, or prefer to stay down to earth in bold, bright block heels, metallic heels inject instant impact to any outfit. A block heeled sandal as functional as it is fabulous, KASSIDY kickstarts any event. Bright buckle detailing will wow, while luxurious leather lining pampers your feet.
 LISETTA is the life of the party. A love letter to 70's design, our leather mules marry minimalism in form with smooth metallic uppers, headlining any evening event. 
 Whether you're stepping out for a casual coffee date or heading to a glamorous event, metallic heels add intrigue and sophistication to any outfit. Pair your molten metallic heels with your favourite denim for effortless day-to-night elegance or dial up the drama by teaming them with a monochromatic co ord. 
Doubting metallics can be casual? Think again. 
From runway (think Cecilie Bahnsen's Mary Jane inspired SS24 collaboration with ASICS), to racetrack (Michael Johnson's iconic 1996 gold Nike trainers anyone?), metallic footwear is making waves. 
The vibrance and versatility of metallic trainers are unmatched–they're the cool chameleons of the shoe world. Whether you're popping to the shops or stepping out for a sophisticated evening dinner, metallics add a playful touch to even the simplest outfit. Pair metallic trainers with a midi skirt or a shirt dress. The feminine, flowing lines contrast beautifully with the trainers' sporty silhouette. 
The TABBEE apple leather trainers prove metallics add instant impact to any outfit. Cool, contemporary, and climate conscious. Now there's a future we're proud to invest in. 
When think of 'subtle', animal print and gold rarely comes to mind, but TAMARIS defies the odds. If you're drawn to metallics but fear prefer an understated shoe, this smooth white leather trainer is the best of both worlds. Soft shades with metallic accents and leopard print laces are the perfect blend of shine and subtlety. Versatility? Endless. Comfort? Constant. Impact? Instant. 
Share this post