The History of Jones Bootmaker
Posted by Jones Bootmaker on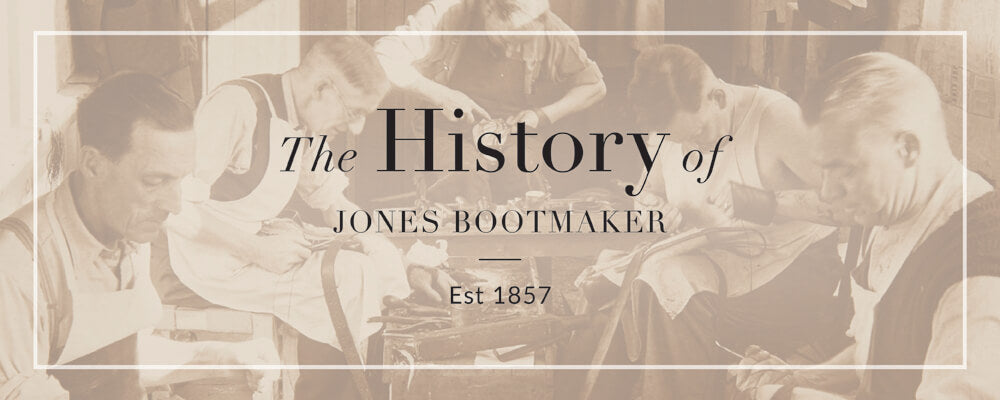 When our founders Alfred & Emma Jones first opened the doors to their shop in London over 160 years ago, they unveiled a world of fine craftsmanship for you to discover. Behind every shoe we make lies a devoted legacy with an enthralling tale that began in 1857 in Bayswater, London.
Established 1857
In 1857 Alfred and Emma Jones first opened the doors to their shoe shop in Bayswater, London, with a view to provide well-crafted shoes, made from only the finest materials in the most classic of designs. Ever the innovators, the Joneses ensured extra trading hours by being the first retailer to introduce electric lighting into their shop, capturing the imagination of the city.
Alfred and Emma were parents to fourteen children, nine out of the eleven sons were apprenticed into the shoemaking industry, where each went on to open their own stores trading under the name of A. Jones & Sons. These nine stores pioneered the way for the world of footwear, by introducing stocks of ready-made shoes available in three different widths, a tradition in shoe fitting that is still used to this day.  
The A. Jones & Sons Centenary
By 1955 the number of shops had outgrown the factories' production capacity and A. Jones & Sons joined Church & Co where the brand mark Jones Bootmaker since 1857 was established. In 1957, Jones Bootmaker was deeply honoured to celebrate its centenary year with HRH Queen Elizabeth II, a monarch who has consistently redefined sovereign style through her reign.
A New Chapter
By 1996, the company was now trading as the familiar, Jones Bootmaker. The retail insecurities of the noughties brought crisis to the high street. Ownership changed more than once and finally, February 2018 saw Jones Bootmaker become part of an independent, family-owned, footwear group. So, full circle. Jones Bootmaker, a business built on its traditional family ideals, is safely back in the hands of a family that cares.
Today
Today, life is fast, but fashion doesn't have to be. We're about setting the trends, not following them. Slowing down the pace so you can enjoy the finer things in life like scotch with a twist, doubles of course.
Guided by our past we push the boundaries of what's new. Devoted to our fine shoemaking heritage we keep up to date for the demands of the modern-day. Globally sourced, our collections are curated by only the best shoemakers to provide beautifully crafted footwear to our international customer base.
From easy-going classics to formal footwear, relax, we have you covered. Every detail is considered, from the materials to the construction and then to the finish. Our footwear collections bend the rules so you can remaster the art of weekend dressing and switch business cards for shoes that mean business. With Jones you'll always be ahead of the trend and the times.
Let the rest keep up.
Share this post