The History of the Boat Shoe
Posted by Jones Bootmaker on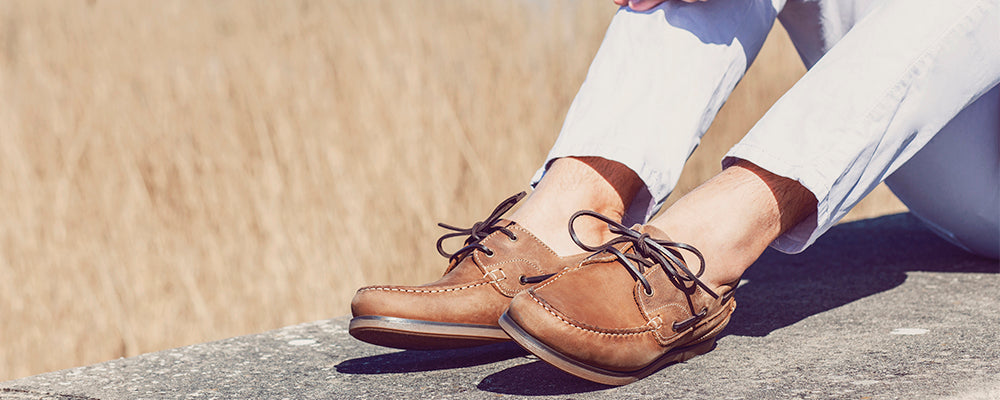 They say a smooth sea never made a good sailor. Let us tell you the tale of a rough sea, Sailor Sperry and his seafaring dog who pioneered the way to create the iconic boat shoe.
The boat shoe, sometimes known as a deck shoe, is defined by its casual silhouette, traditionally constructed in canvas or nubuck leather moccasin-style uppers and one lace fastening, whilst siped rubber soles play a practical role in the boat shoe's sailing history.
In 1935, a Connecticut born Sailor Sperry was having trouble maintaining a grip on deck in the wet, choppy conditions, meaning even simple tasks became dangerous to attempt. He watched as his dog ran across smooth ice whilst still maintaining its grip, on close inspection of the dog's paw he found that tiny cracks and grooves on the paw were giving the dog traction on smooth surfaces.
So, Sperry set to work carving similar small grooves into the gummy rubber soles of his shoes to improve traction on the deck. It worked a treat! He updated the shoes to white soles as to not leave marks, added a siped herringbone pattern to the sole and the boat shoe, as we know today, was born.
The boat shoe design was well-received by sailing communities for its functionality and style and became widespread within the marine world. In 1939 the US navy noticed these innovative shoes and signed a contract for Paul Sperry to create standard-issue boat shoes for the US navy sailors throughout WWII. 
Fast forward a few decades and the boat shoe became a mainstream trend throughout the college crews of the 1980s and 1990s, created in candy colours and teamed with slouch socks and polo shirts after appearing in The Official Preppy Handbook in 1980.
From the 1930s to the modern-day, the boat shoe has tip-toed an extensive style timeline, today the boat shoe encapsulates the same preppy aesthetic whilst retaining its traditional functionality. At ease with both your workwear to weekend rotations, the boat shoe is best worn with cropped chinos or tailored shorts.
Share this post