The Jones Shoe Care Guide
Posted by Jones Bootmaker on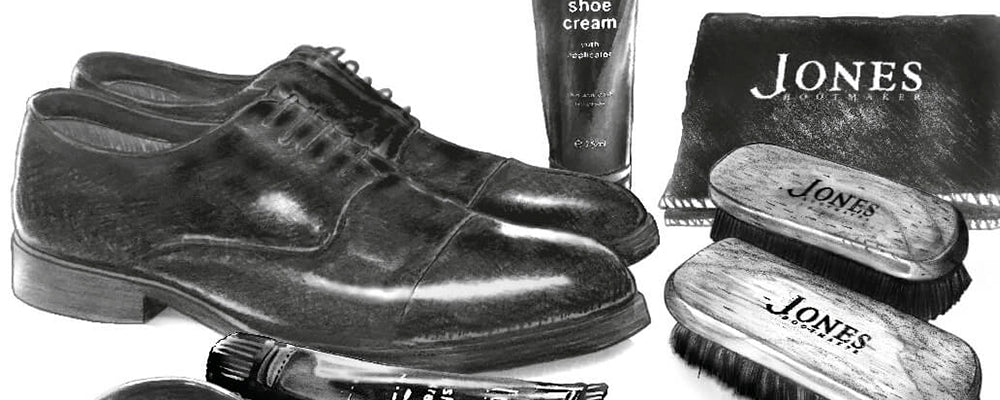 The Jones Bootmaker guide to looking after your shoes and accessories.
We want your Jones shoes and accessories to stay looking and feeling impeccable, so we're here to give you a few helpful tips. Our shoes and accessories are crafted from the highest quality materials and finishes using the most skilled craftsmanship, so in order to preserve their beautiful stature regular cleaning and maintenance is essential to remove daily debris which can build up over time. From preparation to cleaning and polishing, with the proper care and maintenance of your shoes, you can help to ensure their longevity in wear for years to come. 
Cleaning Kit Essentials
Shoe Cream
Horse Hair Brush
Wax Polish 
Lint Free Cloth
Welt Brush
Dubbin
Water
Jones Hints and Tips
We believe prevention is better than cure; we recommend protecting your purchases against the elements before wear. Use a quality protector which is suitable for your material, be it leather, suede or textile.
Leather is a natural, porous material. It should always be left to air dry and not placed near any direct heat in order to preserve the shape, fit and colour of the leather. Leather soles can expand when wet so we would suggest avoiding very wet weather conditions for the initial outings of your leather-soled shoes. In the case that they do become very wet, dry them out slowly in natural conditions. 
Wooden shoe trees are a great solution to keep your shoes in shape when they are not being worn and they will absorb any moisture from within the shoes, allowing them to dry naturally. Boot shapers will also aid shape retention in boots and will prevent the cracking or bending of leather.
When your handbag is not in use, store it in a dust bag and avoid overfilling in to retain the bag's shape and quality.
Put shoes on using a shoehorn for the most comfortable fit, and to avoid misshaping and damaging the heels, material or topline of the shoe. 
To restore textiles, we would recommend using tepid water and a soft toothbrush in circular motions to remove any marks or debris. For tougher stains, use a small amount of washing detergent powder with water, again in circular motions with a soft toothbrush. If needed after cleaning, fill the shoes with scrunched paper or tissue paper to absorb any excess water.
In order to allow your shoes time to dry and breathe between wears, we recommend rotating your footwear choices with at least a full day between wears. 
Suede
Suede treatment differs from that of polished leather. When caring for suede we recommend first using a suede eraser to remove small scuffs and marks before using a suede brush to restore the natural nap of the suede. After cleaning, we recommend using a water-protection spray in order to build up a barrier against the elements.
A How-To Guide for Cleaning Leather Shoes
Firstly, remove the shoelaces and set aside, these can be washed or replaced if needed. Remove any dirt or debris from the shoes with a dry cloth or soft brush.
Leather uppers require regular treating with a high-quality shoe cream in order to maintain the suppleness and hydration of the leather and prevent drying and cracking. Apply the shoe cream to the uppers of the shoe to nourish and condition the leather. For an optimum conditioning treatment, leave the shoes for two hours before buffing out the excess cream with a soft cloth. 
A wax-polish protects the leather and gives a high shine finish. Apply a high-quality wax polish to the upper in small circular motions, to create a waxy matte finish. Before you place the product on the shoe, ensure it is the correct shade for the leather.
In order to protect the whole of the shoe, use a welt brush to apply the same wax polish to the welt and to the heel.
After the wax polish has been absorbed, use a horsehair brush to buff the shoe with quick side to side motions to bring out the natural shine.
To add a high shine finish, apply small amounts of polish with a lint-free cloth in small, circular motions. Continue to buff and repeat until you reach the level of shine desired. Finally, re-lace with the shoelaces. 
Share this post