How to Style: Biker Boots
Posted by Jones Bootmaker on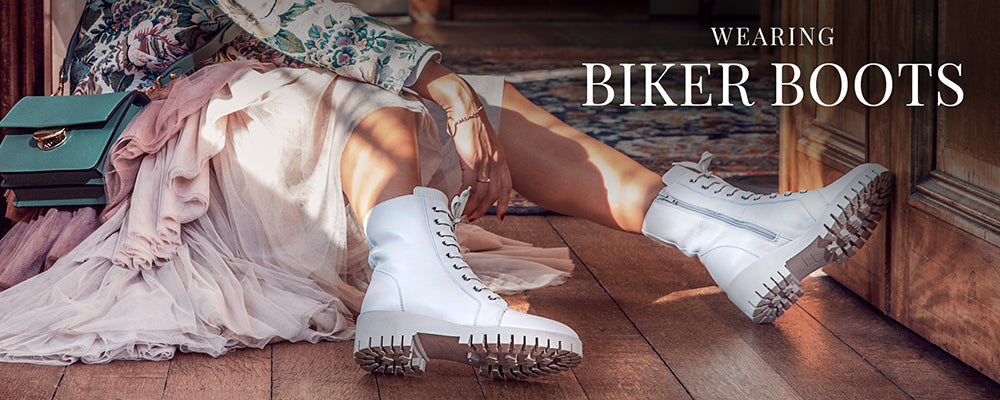 Whether peeping out from sweeping wispy hems of tulle, or stomping alongside rugged leather trousers, the biker boot is a bonafide fashion statement. A classic style reinvented season after seasons, Jones' latest offerings of biker boots puts a focus on premium quality and elegant style. With no compromise on chunkiness or attitude, the boots offer clean and sleek silhouettes which will stand the test of time, no matter the season. Imagined in a new array of silhouettes and shades, the latest collection of ankle boots are imagined with versatility and style in mind. Styled with simple, contrasting and even surprising looks in the latest campaign, Jones is here to show you how endlessly versatile your biker boots really are.
What are biker boots?
Originating from old-school motorcyclists who wear chunky leather boots to protect them whilst out on the road, biker boots have become a contemporary fashion staple for both men and women. Imagined in every height from ankle boots to knee-high styles, biker boots have been reinvented every season for decades gone by. Classically black, the boots are often characterised by a chunky silhouette, secured by laces or buckles, and decorated with metallic hardware, studs or straps, for extra attitude. Previously reserved only for punk or rocker sub-cultures, biker boots are now a huge part of mainstream fashion, with everyone from Kendall Jenner to Meghan Markle seen sporting a pair of classic bikers. 
What to wear with biker boots
Biker boots provide great foundations to a whole host of looks. Presenting endless styling opportunities for a wide array of occasions, biker boots can be worn casually, or on an evening when styled correctly. An integral piece of any capsule wardrobe, a pair of biker boots pairs as well with leather trousers and blue jeans as they do with bare legs and mini skirts. When looking at how to style biker boots, think first of the kind of look which you want to achieve. Are you aiming for full Nirvana-inspired grunge? Or a chic work look with a touch of an edge? Start with your boots first, then work your way up! If wearing for work, or as part of a more classic look, opt for premium materials such as a smooth leather with a minimal design that allows the exceptional craftsmanship to sing. Or, if aiming for a leather clad 1990s Kate Moss inspiration, load up on metallic hardware, detailing and studs, such as Elosie. For a grown up take on biker boots, try pairing them with chic separates that give a look of relaxed elegance. Whether a skirt, dress or trousers, look for fine knits, cashmeres and satins in tonal neutrals for a luxe palette, perfect for juxtaposing against the rich leathers. 
How to wear biker boots for a night out 
Take inspiration from Carrie Bradshaw of Sex and the City and add a fun styling twist to your biker boots for a night out. The perfect antidote for lace up leather boots, a whimsical, frothy tulle skirt creates an irresistible contrast. Keeping colours in the same tonal family helps bring a touch of cohesion to the look, and stops it from looking messy. Or, if you are looking for something less extravagant for an evening, a pair of black skinny tailored trousers tucked into a pair of leather biker boots gives a chic cool-girl look, top off with a blazer for a touch of formality. 
How to wear biker boots in summer?
Although warm and reliable, biker boots aren't just reserved for the cooler months. Give your biker boots an extended lifetime by wearing them in the spring and summer months too. In spring, pair your biker boots with faded wash jeans or delicate fine knit co-ords for a relaxed look which bridges the gap between the seasons. Or, when it comes to summer, go bare legged and team your biker boots with everything from cut off denim shorts to floral mini dresses. Perfect for music festivals and outdoor parties alike, biker boots are a great way to stay stylish whilst giving stability on outdoor terrains. Plus, the chunky profile gives a flattering silhouette against a bare leg. 
How to wear biker boots with jeans
A pair of biker boots and jeans is a classic look dating all the way back to the 1950s. For a smart take on the traditional pairing, try teaming black leather biker boots with black skinny jeans for a cohesive look, or for an on-trend laid-back look pair your combat boots with a pair of straight legged washed out jeans. When it comes to experimenting with shades, a pair of cream or white biker boots look great with a pair of blue jeans, and gives a spring or summer ready take on a traditionally winter trend. Or, should you have a pair of biker boots packed full of metallic embellishments, why not pair them with your favourite 'jeans and a nice top' for an evening look that will have you on the dance floor all night long without the sore feet?

How to wear biker boots with a dress
When it comes to wearing biker boots with a dress, there are endless styling options. If you are opting for classic black biker boots, they will look fantastic with a pair of black opaque tights which not only flatter the leg, but will provide you a versatile base for countless autumn and winter looks. A floral midi dress always looks great with a pair of biker boots and tights, topped off with a classic leather jacket, or for a cosy look try a chunky knitted jumper dress. When it comes to the summer months, go bare legged and pair your biker boots with a cotton midi dress or a puff sleeved mini dress; the chunkiness of the biker boots really helps to balance out the proportions of the sleeves. Heading to a festival? Biker boots are the perfect alternative to a pair of wellies, pair them with everything from sequins and feathers to waterproof jackets and bum bags.
Share this post