How To Style Platform Trainers
Posted by Jones Bootmaker on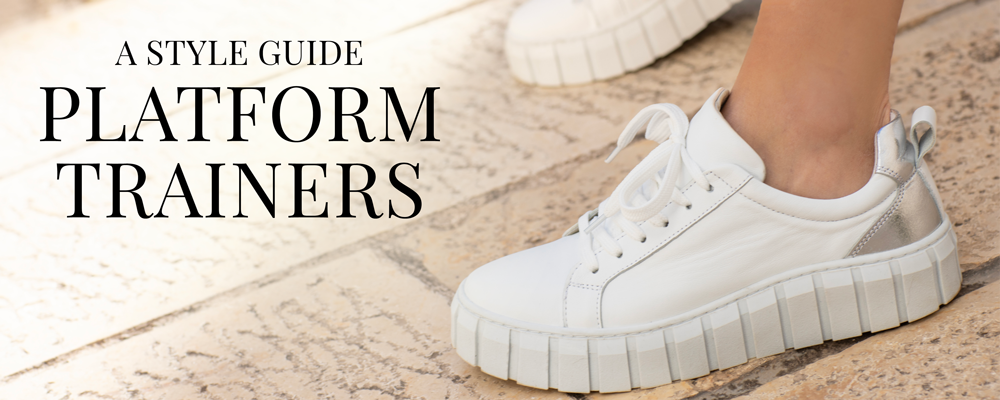 Trainers. They're a universal footwear staple no matter your style and can open a whole world of creativity when it comes to wearing them. 
Our diaries are quickly filling up with plans (we're looking at you long weekends), so, we need the shoes that are easy to throw on, will keep you on your feet all day and, of course, look the part too. 

Enter trainers, more specifically platform trainers. Made with mighty soles, they'll keep your feet firmly on the ground.

Whether for work or the weekend, we're finding ourselves gravitating towards platform trainers, maybe it's because they're entirely versatile, or perhaps it's because they're so comfortable and practical too? 

To help inspire you, we've put together a guide on how to style platform trainers that will step you through spring, summer, and into the colder seasons too.

How to wear platform trainers
Whichever way they come, there's a certain kind of pleasure in slipping on a pair of platform trainers with, well basically anything. If there's one thing to love about chunky trainers, it's their versatility. Whether worn with summer tea-dresses or wide-leg tailored trousers, they're the shoes that have no bounds. 

Styling platform trainers
If you're considering what to wear with platform trainers, it's best to cover the ground rules first.

Although trainers may be considered a casual option, when wearing them for smarter occasions they need to make a lasting impression, so your well-worn gym trainers won't cut the mustard. Trainers crafted with smooth leather will really help to find that tricky sweet spot between smart and casual style, plus their high-quality finish means they'll be ready to wear for pretty much rain or shine.

Using a trainer cleaner or whitener to remove any scuffs or dirt from the chunky soles of your trainers will retain their 'just-new' look for even longer - we're calling that a win for your bank balance.

Platform Trainers and Dresses
Platform trainers can make a practical (and comfy) switch from summer sandals, without limiting your outfit choices, aka the dresses and skirts you have on standby for when the sun arrives.

High-top trainers with platform soles work well for dresses with shorter lengths, while a low-cut trainer looks great with a maxi dress, if there's a lot going on with your dress, then stick to a classic tennis shoe. 

Maxi dresses and white trainers make an easy, yet elegant outfit. Let the hems of your dress skim across your ankle to let your trainers and their chunky soles be admired in all their glory. Platform trainers worn with tea dresses and silky slips are another easy summer option. Feeling chilly? Layer up with a knitted jumper.

If you prefer your shoes to do the talking? Platform trainers in bright colours will breathe new life into a basic summer staples, we're thinking a black cotton dress. As for coordinating or clashing your accessories. We'll leave that up to you.

Wear to work…
Wearing trainers to work might have seemed like a scandalous concept in times gone by, but these days they're a recognised work shoe for most and we don't just mean for the morning commute. 

Chunky trainers made with black leather will quickly become an everyday staple that will crack the office dress code with ease. Slip them on with knitted dress and throw on an oversized blazer to smarten up the casual feel of your trainers.

…And into the evening
Plans after work? No problem. Platform trainers are ideal for post-work plans, built on a chunky heel they can offer up the same height as stilettos but with plenty of comfort that will last all night – at last.

To keep things smart, switch your denim jeans for a pair of tailored trousers (cropped at the ankle) and throw on a matching blazer with a slouchy tee to loosen up the formal feel of the suit. 
Looking for something a little different? A maxi dress with puffed sleeves are certain to add drama to the chunky soles of your trainers. As for staying out after dark, a knitted sweater vest is the perfect for pulling on when the chill kicks in.

Share this post