How to Wear Wedge Sandals
Posted by Jones Bootmaker on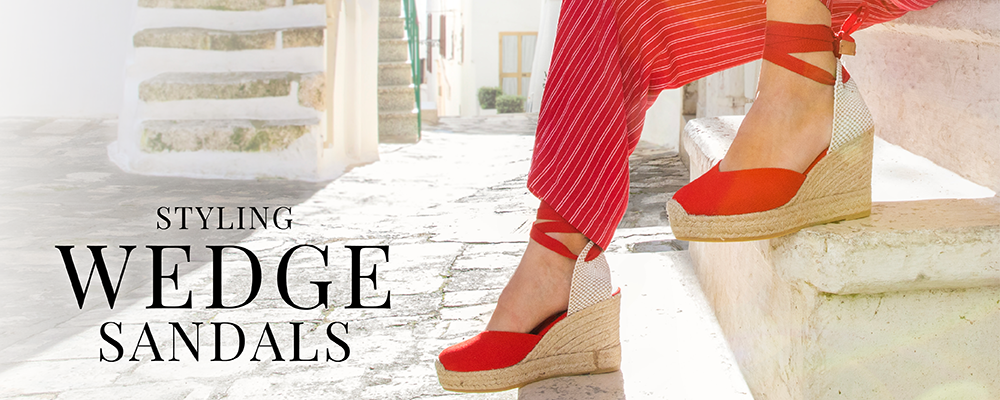 The ideal time to invest in sandals that you can wear throughout the sunny season is now, and if you haven't noticed, wedges are the ultimate trophy sandal. Endlessly versatile, wedge sandals give the classic boost of heels with the care-free comfort of flat shoes. A gift from above? Most certainly.  
With a string of long weekends fast approaching, you can never be too prepared for the events they may bring, from race days to weddings and holidays (the list goes on), we need a solid pair of sandals that we can reach for at a moment's notice. Sandals that will keep us feeling comfortable through long days on your feet and can be worn with, well, everything. Enter wedges.  
Wedges like espadrilles, are a timeless wardrobe staple that will style you through plenty of summer occasions, whether it's smart events or more casual affairs. As for their longevity? Wedge sandals (and wedge shoes for that matter) are as classic as it gets, so you can wear them through next year, and the one after that.  
With women's wedges offering up plenty of styling opportunities for the warmer months, we've compiled a guide of how to wear wedge sandals. Sound good? Keep scrolling to discover what we'll be wearing our wedges with this summer, plus our favourite styling tricks. 
What to wear with wedge sandals 
Wedge sandals come in a variety of forms, from peep toe styles to sling backs and espadrilles, whichever way they come, their versatility is something to take note of.  
When we say versatile, we really mean it. As for choosing between bright shades or calm neutrals, it's a matter of preference. So, we'll leave that decision up to you. 
Wearing wedges and jeans 
When the temperatures begin to soar, making the switch to sandals is perhaps one of the most satisfying moments of the season. If you're partial to wearing jeans and a tee no matter the weather, wedge heels are a great (and comfortable) choice for styling a simple, everyday outfit in summer.  
For wedges with ankle straps or ankle ties, choose jeans that are cropped above the ankle, so your sandals can be displayed in all their glory. Want to switch things up? Swap a simple tee for a smocked linen top for a relaxed boho look. 
Wearing wedges with wide-legged trousers 
What to wear in a heatwave? Wedges and wide-legged trousers will keep you cool no matter how high the temperatures climb. 
Go for lighter fabrics like linen or cotton and tuck in a button-down cotton shirt in a pair of wide-legged trousers and wear with wedge sandals. Espadrilles with braided heels and canvas textures will fit the brief for summer. 
Styling espadrille wedges 
For those looking for an investment pair, espadrille wedges are a safe bet. Originating from Spain, traditionally equipped with braided soles and canvas finishes are resilient and versatile nature, meaning you can adapt them to suit everyday looks or smart events like garden parties and weddings - note their grass-friendly design (no more sinking stilettos).  
Wearing espadrille wedges for holiday 
Nothing says out of office more than soft linen, and a light summer suit makes an easy breezy staple in hot weather. Fun textures can be found in espadrilles, from the braiding of heels and the suede or canvas finishes so they'll make the perfect pairing for light linen fabrics.  
Want to make a statement? Dressing head-to-toe in one shade will never fail to look chic. For a monotone summer look that's simple to pack in your suitcase, choose pieces in complementary (not matching) shades. Low effort, high impact. Sign. Us. Up. 
Wearing espadrille wedges for weddings
Ah, the age-old dilemma of which shoes to wear for weddings and race days. Elegance and ease are key for formal events, especially when long days and formal dress codes can demand a lot from your feet.  
Cue wedges. They're the sandals that give you the height of heels, with the supportive comfort to keep you on your toes all day…and night (we'll see you on the dancefloor). 
As for how to style them? A mid-length dress cinched in at the waist will help to balance out the height of high wedge heels and allow flattering ankle ties or straps to be displayed in all their glory.    
Share this post