Tailor Made: Style Guide
Posted by Jones Bootmaker on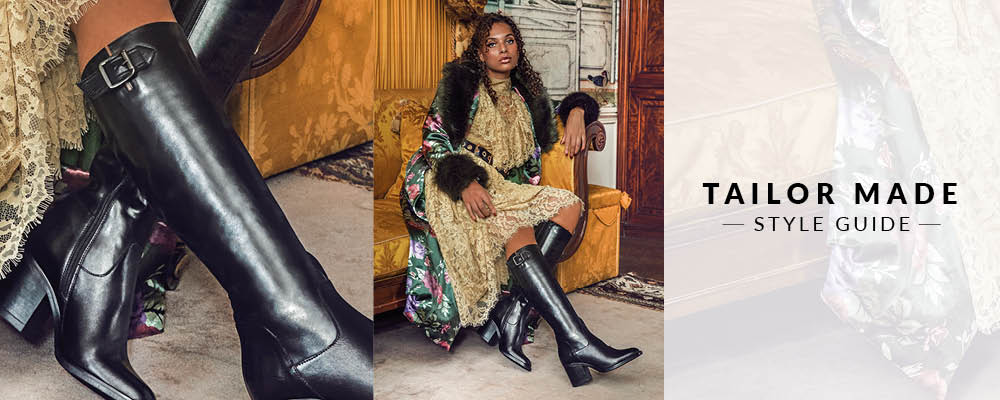 A pair of new boots is a luxurious treat for a new season, even more so when they are crafted to perfection thanks to our new Tailor Made collection. Recognising that it is unrealistic to expect one calf width boot to fit every woman, the Jones team have developed a beautiful collection of tall boots which are available in extra small to large calf width fittings. Style, fit and quality are paramount to our designs, and our latest Tailor Made collection embodies understated chic style and elegant profiles with ease. The only question is, how are you going to style knee high boots this season?








Pure Opulence
Beautifully understated, Cesena is a subtle statement of luxury. Allowing your outfit to do the talking, Cesena is the perfect backdrop for rich hues and textured fabrics. The butter soft polished leather of Cesena gives a clean and simple starting point for building a look, the perfect base for interesting silhouettes and fabrics. Styled here with rich opulent tones, the combination of ruffled lace, autumn florals and soft faux fur confirms that more, is most definitely more.











Country Chic
Catanzaro's classic rider profile lends itself to natural linens and country inspired detailing effortlessly. The sleek profile is endlessly flattering on the leg, making it the perfect boot to slip under midi dresses without creating unnecessary bulkiness. Paired here with a riding inspired look, the boots will also look fabulous paired with dainty floral printed prairie dresses and skinny jeans alike. 









All That Glitters
Party season is nearly upon us, and with it our desire to shimmy and shimmer like twinkling lights. For a grown up approach to sparkle, keep your footwear muted, as with Cagliari, and allow one stand out piece to shine. The more demure silhouette of this long sleeved dress allows for the individual sequins to twinkle, without looking gaudy. The sumptuous dark shades creates the perfect backdrop for the metallic detailing, like individual stars against a dark blanket sky. 







Double Leather
Forget double denim, this season is all about double leather. Don't be afraid to clash and contrast shades too, long gone are the days when brown and black could not be mixed! The perfect partner for a leather jacket or trench, the beautiful Cagliari boots are a wear-with-everything style that offer endless styling options. The smooth leather and stacked, block heel combined with the minimalist silhouette give a foundation to countless looks, for casual, smart and evening occasions. Styled here with sumptuous shades of brown and cream, with a pleated leather dress, Cagliari is set to be your wardrobe hero of the season. 

Shop Jones' Tailor Made here. 
Share this post