The shoes to wear with summer dresses
Posted by Jones Bootmaker on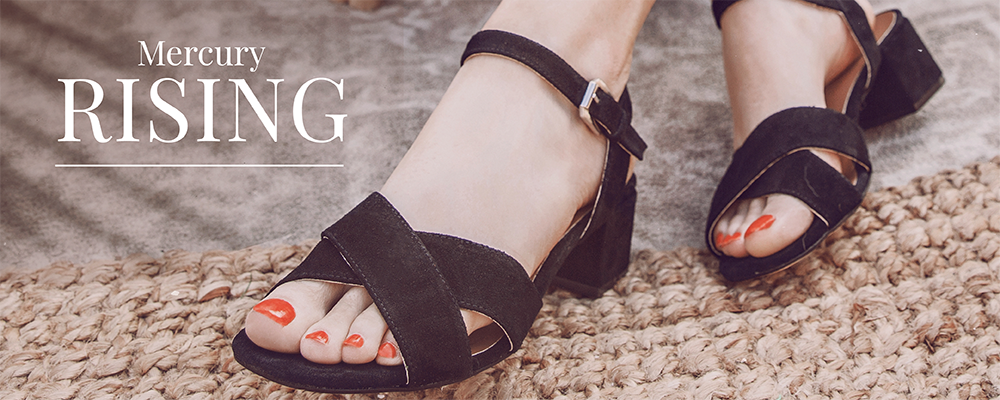 If this season could be represented by a single garment, it would undoubtedly be the summer dress. A reliable do-it-all ally that you can turn to no matter what the forecast has in store. 
Whilst dresses have the on-repeat styling power, one question remains … what are the best shoes to wear with summer dresses? 
From heels to summer sandals, trainers to ballet flats, our latest masterclass for summer dressing delivers simple style formulas that will decode what shoes to wear with dresses, and with a little know-how, your favourite dresses can have year-round appeal too.
What shoes to wear with a maxi dress
The maxi dress, aka, the ultimate summer staple. Its flattering, comfy, and floor-sweeping qualities make the maxi dress the front-runner for the season, when paired with the right shoes it's the dress that can be worn from day to night. If you're in need of a little inspiration, meet our favourite combinations …

Sandals and Maxi Dresses
Sandals and a maxi dress will always be the ultimate summer pairing, it's a chic and effortless ensemble that will step you through the soaring temperatures and style you for every event that the summer season holds. Add chic cohesion to your outfit by matching the colour of your sandals with the prints of your dress or accessories, a simple monochrome ensemble will lend a timeless twist that you can rely on year after year. 

A pair of platform sandals will make an elevated (and comfortable) alternative to our ever-faithful flat sandals. Chunky soles will give an elegant boost to your height that will balance out bold prints and lengthen the appearance of your leg with longer hemlines.

Trainers and Maxi Dresses
Wearing trainers with a maxi dress will add a cool, contemporary twist to long floating hemlines. Practical and reliable, trainers are the ideal shoes to wear for days on the go, yes even for the office. Smarten up a simple maxi dress and trainer combo with a colourful linen blazer, and you have a professional, work-appropriate outfit ready in a matter of moments.

Heels and Maxi Dresses
Packing for holidays? Maximising your summer wardrobe can be tricky if you're limited by your baggage allowance. Luckily for you, a pair of heels will be one of the most versatile pieces you'll be packing in your suitcase this summer. 

Heeled mules Heeled mules will effortlessly graduate a maxi dress from a daytime dress to an elegant evening option. You'll find us wearing this combo on relaxed, balmy evenings. Sampling the wine at the local taverna. Bliss. 

What shoes to wear with a denim dress
As wardrobe staples go, there's nothing more versatile than the denim dress. It's an easy-to-wear piece that can be thrown on when you're in a rush yet will remain effortlessly chic and will transition you into the autumn winter months too, just swap your sandals for tights and boots.

Trainers and Denim Dresses
Much like their counterparts (yes, we mean jeans), denim dresses tend to lean into more casual settings, so you need the shoes to match the tone and if you haven't noticed by now, trainers and dresses are the ultimate pairing for summer.

A quality leather pair of trainers will lend a decidedly sophisticated finish to a mid-length denim dress. For versatility's sake, opt for trainers in classic shades of white, navy, or black and you'll find yourself wearing them on rotation long after the sunny season is over. 

Mule Sandals and Denim Dresses
A denim dress that is longer in length is best suited to the summer months as the flattering hemline opens-up an array of sandal options suited for the sun. 

For something like a tiered maxi dress, a classic pair of mule sandals or clogs will embrace the 70s charm of a denim dress, giving an easy and impactful outfit. A straw bag and quilted jacket will truly finish your retro-inspired look, perfect for when you're dashing out of the door.

What shoes to wear with a shirt dress
A shirt dress brings an easy mix of smart casual to your wardrobe, a style borrowed from the boys, the shirt dress takes inspiration from one of the greatest staples of them all, the shirt. 

Typically characterised by a collar and buttons, it's a dress that channels true Parisian chic. With the style standards high, you need the flawless shoes to wear with the shirt dress …

Ballet Flats and Shirt Dresses
If it's a smart casual look you're after, then a leather pair of ballerina flats will be a sophisticated match with a striped cotton shirt dress. A work-appropriate outfit, this simple pairing will keep you feeling put together and professional in the heights of summer. Stick to classic shades of reds and navy blue to really nail the chic French look.
Elenora Ballet Flats
ELENORA
ELISABETTA Mary Janes
ELISABETTA
Madora Ballet Flats
MADORA
What shoes to wear with a midi dress
Universally flattering and versatile, the midi dress deserves a leading role in every capsule wardrobe, and the likelihood is you already own at least one. The midi serves across all seasons and for every occasion, so it's no surprise we choose it again and again.

Wearing ankle boots with your midi dress might be the outfit of choice for the cooler seasons, but how do you style a midi dress for summer? 

Sandals and Midi Dresses
Chunky and block heeled sandals are a reliable choice as the dress itself, comfortable and practical they'll forever be our go-to whether worn to work, special occasions or destinations abroad.

A slinky slip dress is the solve-all solution in a heat wave, cool and classic, it can be adapted to suit every moment. A pair of low block heels will work for evening events, whereas sandals with a chunky platform sole will step you through casual days, just throw on a light-knit jumper and you have a work-appropriate outfit.

Trainers and Midi Dresses
We know we've said it before, but a great pair of trainers will be a fail-safe choice when it comes to styling floral midi dresses. White trainers will add a laid-back and fresh feel to the dressiest of styles, simply sign the look off with chunky platform soles to really let your dress shine.
Carrington Block Heels
Carrington
Arabella Wedge Sandals
Arabella
Amira White Leather Trainers
AMIRA
What shoes to wear with a smock dress
There's something so impossibly romantic about the smock dress, voluminous sleeves, pleated details and whimsical prints, what's not to love?

The biggest virtue of the smock dress (other than its transformative powers) is that it can be worn with virtually every type of footwear, clogs, trainers, chunky sandals and even stomper boots. The list goes on …

Clogs and Smock Dresses
Clogs are the shoe choice for summer, in actual fact, they're an all-season must-have. The easiest shoes to wear of them all, clogs are so simple to slip on and will truly adapt to the Cottagecore movement.
Flat Shoes and Smock Dresses
Adding flat, closed toe shoes like Mary Janes or ballet pumps to a smock dress will make the perfect transitional outfit, pick pumps in bright colour pop shades to stand out from the bold colours and prints of your dress.
Share this post