What to wear back to work
Posted by Jones Bootmaker on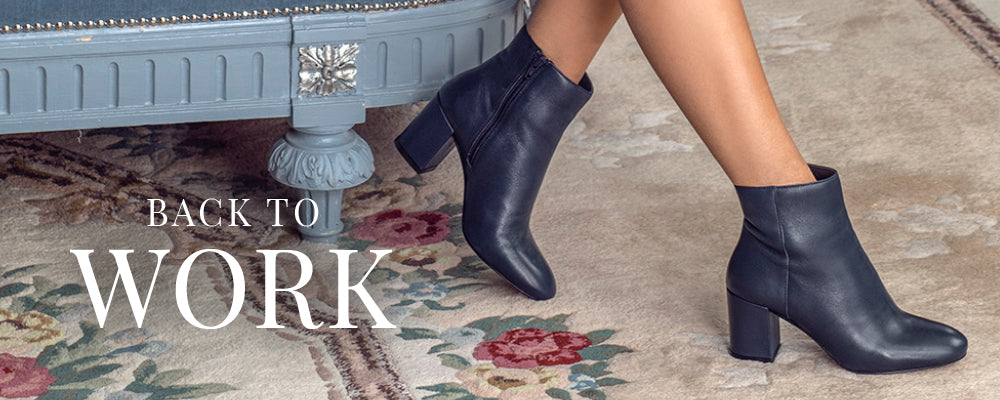 Whether you're stepping back into the office, working from your home office, or you're somewhere in between, now's the time to maximise your nine-to-five footwear collections (even if they aren't the hours that you keep) and switch the slippers for shoes.
The new-found flexibility in our working day brings greater variety in the way we dress, while traditional dress codes may be more relaxed, making the right impression remains absolutely necessary. It's time to embrace new beginnings, in other words, it's time for a new pair of work shoes.

Cue the shoes that will be the joyful remedy when getting back to the grindstone …

For Her: Work shoe Edit
A good pair of shoes will forever be the foundation to our workwear wardrobes, instant outfit makers, the right pair will add polish and endless versatility to your looks with zero effort required. But what should be wearing back to work ?

The snappy dresser 
If you're throwing yourself straight back into the nine-to-five, you'll need the work shoes that will keep up the pace of your Monday to Friday commutes (not to forget those post-work jaunts). A smart pair of shoes are just the ticket for formal office settings but that doesn't mean they need to be boring.  

Flat Shoes
Flat shoes are decidedly practical option to wear for work, comfortable and versatile, they'll even work for weekend dressing too. A classic pair of pumps are great for those who are looking to refresh their capsule wardrobe, slip them on with a whole host of workwear staples like a pair of tailored trousers that are cropped at the ankle or add a sartorial twist to mid-length dresses.
Heeled Ankle Boots
As it is officially boot season, you need to invest in a pair that will be the mainstay for the foreseeable. A pair of heeled boots make an essential choice for a capsule wardrobe, for sartorial dressing stick to pared-back classics as they'll effortlessly transition you through the seasons and the occasion too. The secret to a successful capsule collection lies in the colour of your boots, stick to black and navy palettes for a truly timeless foundation.
Business Casual 
Forget everything you once knew about dressing for the office, these days business dressing forgoes stiff formalities, opening up a whole new world of smart casual dressing. Though the dress code for work maybe relaxing, it's vital that we still all remain presentable. Enter the humble trainer.

Wearing trainers to work might have seemed like a scandalous concept in times gone by, but these days they are no longer the preserve of your commute to work. They're the shoe of choice for the office, from wearing with mid-length dresses and trench coats to two-piece suits they have the power to transform your workwear wardrobe in an instant. To keep things clean-cut and presentable, opt for a pair with fresh white cup soles they'll easily transition between occasions and the seasons.

For Him: What to wear for work
It's been a minute since the office closed its doors, so you'd be forgiven if you find the art of dressing for the office a tricky beast to master. These days, the line between smart and casual has become so fine (no, we don't mean pin stripes) we've found ourselves re-writing the rules on what to wear for work …

Formal Office Dressing
For formal office settings it's best to keep it classic, nothing says professional quite like a well-cut suit and a polished pair of Oxfords. While there is a changing attitude to office-dressing, keeping things smart and well-presented is the best way to show you mean business. Why re-invent the wheel?

May we suggest the Goodyear Welt collection. Made with a hardy construction, these are the timeless shoes that will step you through many a formal occasion. Plus, they can be re-soled over time should you wear them out through years of wear.

The hybrid worker
We find ourselves suddenly faced with the frantic pace of the morning commute and the expectation to keep up appearances with a flawless, professional wardrobe. While business casual dressing might be newfound territory, we need to master the style basics – wearing your tired gym trainers just won't do.

Meet our hybrid brogues. Super lightweight and versatile they present zero-effort on the dressing front and remains classic that will work in a range of settings be it in on or off the clock. And as for wearing trainers with suits? The Sabatino trainers have the formalities signed off.

Share this post