How to Style Chelsea Boots
Posted by Jones Bootmaker on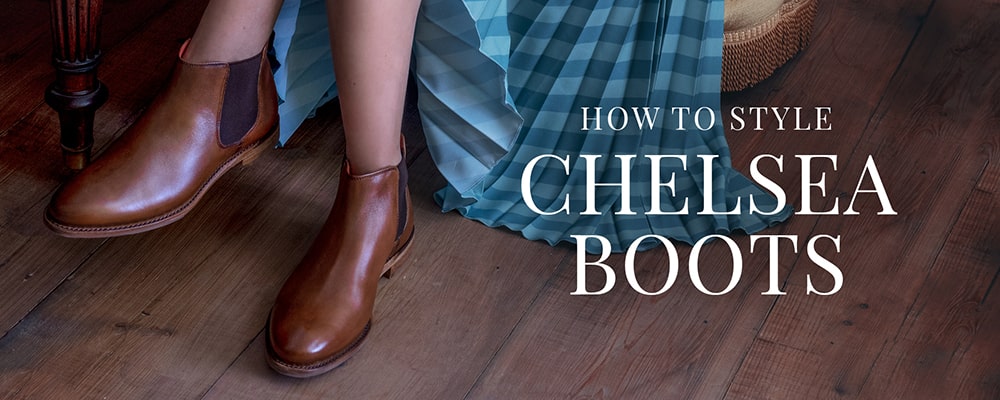 Chelsea boots have been a favoured choice for centuries, with a history that harks back to Queen Victoria's era there really is something to be said about the steadfast popularity of this time-honoured classic. 
Traditionally crafted with flat soles, rounded toes, and of course, the duo of stretch side panels Chelsea boots are famed for, much like the modern day, they were the boots that were worn by men and women, loved for their practical and versatile nature. 

A good pair of ankle boots is our feet's equivalent to a best friend, and while black and brown Chelsea boots will always reign supreme in our wardrobe, the bold and chunky iteration of the Chelsea has been brought into the spotlight and looks to be sticking around for the foreseeable.

No matter how classic the Chelsea may be, one question remains, how do you wear Chelsea boots? From subtle updates to bold new silhouettes, here is our need-to-know guide so you can invest accordingly.

What to wear with women's Chelsea boots?
Trust us when we say the Chelsea is the true hero of the capsule wardrobe, you can wear Chelsea boots with jeans, tailored trousers, skirts, and dresses too. To cut a long story short, they'll go with pretty much everything you already own.

Let our Clemenzia boots demonstrate the Chelsea boot's versatility, taking on an elongated form of the familiar silhouette, its pared-back qualities make them entirely adaptable to the occasion, stepping you from dressed down days, to smart casual and on to glamourous evening events. 

How to wear Chelsea boots with jeans
The unofficial uniform of autumn and winter has to be a pair of Chelsea boots and jeans, we're refraining from uttering the words 'style basics' but this duo promise to lay the foundations for many a great outfit. 
It's important to stick to a few style rules when it comes to wearing your Chelseas with jeans, pay attention to your hemlines, as they'll sit above your ankle it will shorten the appearance of your leg. Go for a pair of high-waisted jeans and add a turn up, so the hems sit above your boots, it will lengthen the appearance of your leg and show your boots off in all their glory. 
For a more casual outfit, tan or brown Chelsea boots are the perfect match for blue jeans and stone-washed denims, whereas white or black boots are great to wear with a darker pair of jeans for a smarter look.

How to wear Chelsea boots with dresses
With many iterations of the Chelsea boot, the ways to style Chelsea boots with dresses are infinite, so it really is a matter of personal choice. If you're investing more of a classic style, a pair of brown Chelseas are the perfect match for knee length dresses, whether worn with bare legs or layered up with woolly tights, they're a timeless investment to consider that will work from season to season.

For ladies who are relishing the idea of opulent dressing, the chunky Chelsea boot is the one for you. Equipped with larger-than-life soles, stomper boots are practical, comfortable, and ultra-flattering, perfect for day to night dressing. Chunky lug soles are a cool contrast to pretty silky slips for an easy (and comfy) day look whereas an exaggerated Chelsea boot silhouette will be the perfect pairing tucked under long tiered dresses. Who says you need a pair of heels to look glamorous?

How to wear heeled Chelsea boots
If you're searching for outfit ideas for work, a pair of heeled Chelseas will prove to be the reliable boot of choice for your sartorial wardrobe, they'll spruce up the monotony of your tailored separates plus they'll layer up with your tights and work dresses.

For us, black ankle boots are never a bad choice when it comes to versatility, not exactly the statement piece but the essential foundation for a smart and put-together look. Go for sleek silhouettes with tapered toes and practical block heels that will keep you feeling comfortable and supported throughout the day (and the night).

What to wear with men's Chelsea boots?
Thanks to their timeless shape and design, Chelsea boots are a simple and sophisticated footwear choice for men of all ages. From cool and casual options to slick and smart styles, these are the boots that are designed for the discerning minimalists.

Considered the formal of all men's boots, Chelsea boots are ideal for wearing with suits, especially in the cooler months. Opt for a slick leather pair, with a close-fitting shape and tapered toes as this will lend a sophisticated polish to your tailoring. 

When wearing Chelsea boots with your smart attire, it's vital to pay attention to the cut and colour of your suit, go for slim-fit trousers that are cropped to either sit neatly above your boots or just above your feet, avoiding any creases of fabric around your ankles.

For autumn and winter, experiment with layering textures and colours by mixing and matching your separates, with checked shirts and less formal jackets, as demonstrated by Yele King.

What to wear with brown Chelsea boots?
Not only reserved for the office, a pair of brown Chelsea boots will also slip effortlessly into your casual arsenal too, the key is to look for a boot with a more relaxed silhouette, note the rounded toes and rugged finish of our Debden boots. 

Nubuck leathers in palettes of tans and browns will lend an at-ease look to your weekend finery, and they'll look just the part for casual evenings at your local as they will on the city streets in winter, especially when they're equipped with hardy rubber soles.

Share this post