Style Guide: What to Wear with Mules
Posted by Jones Bootmaker on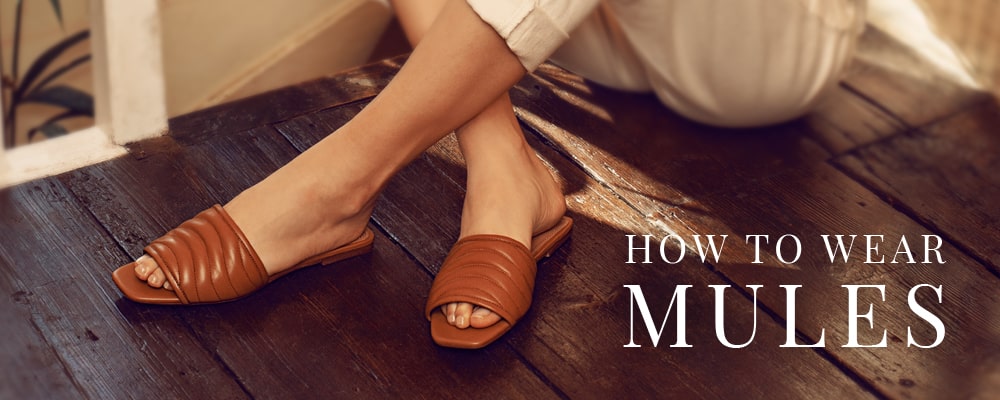 From lazy beach days to elegant events, mule sandals have never worked harder – that needn't mean you need to work hard to find your ultimate pair of mules. 
Cementing practicality with aesthetic, we like to think of mules like summer's sister to classic pumps because they're simple to wear and so versatile, meaning that they're just as suited to your chic and casual rotations as they are to your smart sartorial looks. 
Where looking the part and keeping practical is concerned, there's no need to pick a side, both sensible and stylish, mules hit the ultimate sweet spot for any given occasion. Holidays? Weddings? Back to the office? They're the sandals we can't stop (and won't stop) wearing.
Should hotter climes and exotic destinations have to wait, these mules will be ready to rise to the occasion in the months to follow too, because these are the sandals that will never go out of style. In fact, mules have a history that hark back to Ancient Roman times, so they are likely to be a seasoned favourite that will stick around for the next few centuries.
With an enticing and wide variety of mule sandals on offer for Summer 2021 it may feel hard to choose the style to invest in first, especially when it comes to pairing with the pieces you already own (hello summer dresses out of hibernation).  To help you on your way, we've put together a styling guide, with outfit inspiration like how to wear your mules with jeans and t-shirts or wearing mule heels with your finery just in time for wedding season. 
What does a mule shoe look like?
First thing's first, we need to cover off the basics. Mule style shoes are characterised by their backless designs and simple slip-on silhouettes, either flat or heeled, they can be as minimal or as stylish as you want them to be. Glamorous, classic, and casual, corporate, or edgy their simple design holds endless versatility.
How to style flat mules
Flat mules that are equal parts stylish and comfortable? Easy to wear and instant outfit makers? We are sold!  Whether wearing your mules with your casual ensembles that have served you so faithfully in recent times, or smartly stepping out with a diary full of plans, the versatility of flat mules might just be what you need.
Styling smart flat mules
Flats needn't mean boring, in fact dressing up with flat mule shoes is pretty fun, easy, and comfortable too. Look out for mules with rich leather uppers and classic hues for a smart and sophisticated flourish. For occasions like date nights and brunch with friends, wear flat mules with dresses and let the floating hemline skim across your ankle. As for dressing up your denim, slide on your flat mules with jeans and a flouncy blouse for good measure. 
Note the rich shades of our Darci mules styled with rich leather and quilted detailing, simple yet sophisticated you'll find us wearing these every day of the week.
Styling casual flat mules 
For a day at the beach or laidback moments closer to home, buckle mules are an iconic silhouette and there's only one brand we can turn to for such a sandal, we mean Birkenstock.
They're the style we turned to in the days of lockdown, so not only do they work well with your loungewear but your ankle-grazing jeans for a weekend spent around town. 
All eyes are on Birkenstock's Madrid and Arizona mule sandals, cloaked in rich leather and engineered with the brand's signature contoured footbed, they'll instantly freshen up your summer looks whilst keeping you oh-so comfortable.
How to style heeled mules
If you're graduating from your worn-out trainers to heels then finding the right inspiration to style block heel mules is a must, they're the failsafe option that will instantly transform any outfit and will add an instant boost to your height. For evenings out, wearing mules with your jeans and a pretty top has got to be the reliable choice for when last-minute style inspiration evades us, but what about taking it one step further? 
How to wear mules with a Dress
For an up-to-date mule heels outfit look to Belle and Bunty, they've paired our Monte Carlo heeled mules with a blazer and silky midi-dress. 
By sticking to a nude palette, they have pieced together staples that you might just find in your own wardrobe and let the pastels shades of their skirts pop.
Wearing mules to a wedding
There's nothing worse than donning a pair of heels for the big day, only to discover the balls of your feet are burning a few hours in. Wearing mules with a dress for a wedding is a perfect solution if you want to keep them on all day and night (no thank you back-up flip flops). We'll be wearing ours with silky midi-dresses and ethereal maxi-dresses. 
Stick to the classic shades like our tan and black Danika mules not only will they coordinate with your accessories, they'll be the styles that you reach for again long after the wedding season is over. 
How to wear mules to work
Wearing mules to the office is a trick worth learning, particularly for the summer months, as they are a versatile footwear piece they make a valuable addition to your office basics like your tailored trousers and buttoned down shirts, plus they're easily swapped with work outfits like your pencil dresses, and silky slip skirts. 
Is your office dress code more business casual? Pair low heeled mules with stone washed jeans and a blazer for a smart, office-appropriate sign off.
Mules for men
Favoured amongst gents, mule sandals make a wardrobe staple that's suited to staying in the house or heading straight to the beach. Mules with double straps and buckle fastenings are the iconic silhouette that have been chosen time and time again thanks to their practical and comfortable features.
As for how to style mules for men, look for casual cuts like linen shorts and trousers, their easy breezy look will pair effortlessly with softer materials like suede and nubuck leathers. 
Share this post