The Day to Night Edit: Comfortable Shoes for Any Occasion
Posted by Jones Bootmaker on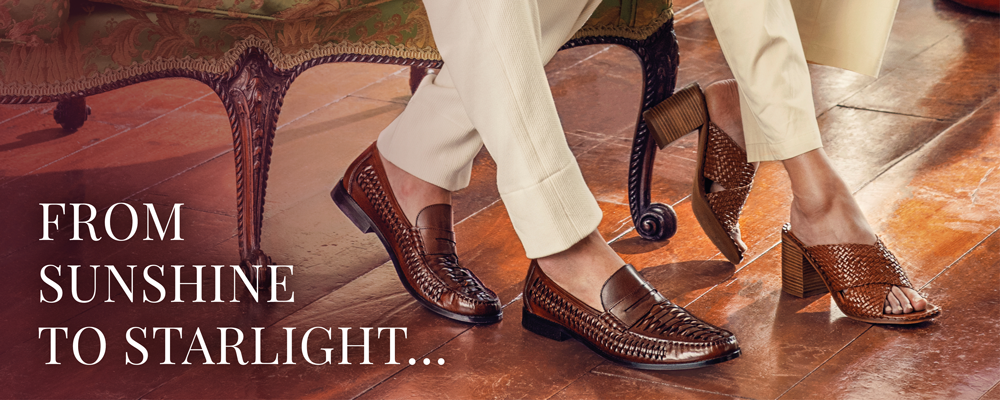 With so many all-day events on the horizon, Summer 2022 is set to be busy. And so, the search for comfortable shoes that will take you from sunrise to sunset begins. From stepping into the church hall to strutting onto the dancefloor, from the morning commute to after work drinks, to street parties, the races, and more – you need footwear that can do it all. 
For days spent on your feet, comfort is key. At Jones we specialise in comfort and craftsmanship. With supple leather uppers, soft internals, and underfoot cushioning, our Day to Night edit showcases the cutting-edge styles that won't spoil the day. 
Spend less time searching, and more time enjoying . Featuring comfortable sandals for her and slip-on loafers for him, in this guide we offer up some essential styles for your consideration. From sunshine to starlight, these are the shoes that will see you through every occasion. 
Flat Sandals and Low Block Heels
A simple strappy sandal is a must-have for every woman's summer wardrobe. No and low block heels will rarely lead you astray when it comes to comfort. 
Particularly good for long days at the office when you also have plans after work, no and low block heels eliminate the usual aches of wearing heels for a long period of time, while still maintaining the same air of sophistication. 
For a smart pair of comfortable sandals that you can wear in the office setting and for occasions outside of work, opt for suede with minimal embellishment. 
Mid-Height Mules
Sophisticated in appearance no matter what you team them with, heeled mules strike the balance between elevated style and easy slip-on wear. 
Endlessly versatile, dress up your casual weekend denims or dress down your most elegant dresses with this effortless style. 
Opt for a leather cushioned footbeds for a comfortable classic you'll reach for no matter the occasion. Pay attention to detail, as woven or padded elements lend new edge to this laid-back silhouette. For a timeless investment piece, a square toe will make a statement wear after wear after wear. 
The Well-Crafted Wedge
The definitive style when it comes to high heels, the wedge remains unbeaten on comfort.
The structure of these summer champions allows for better distributions of weight across the entirety of the foot, enabling better balance and alleviating pressure from problem areas. 
Perfectly poised for grass and other terrains that stilettos just can't hack, the stability of wedges means they're more than capable of keeping up with the demands of your diary. 
Summer 2022 is set to be espadrille season. A classic for a reason, espadrille wedge heels will elevate your looks without sacrificing comfort; uplifting your jeans and summer dresses with their leg-lengthening properties.
Smart Leather Trainers
This casual style takes on new credibility when made from the finest quality leathers. Already finding their way into our workwear rotations, the leather trainer has been a smart comfort staple for a while now. 
Teamed perfectly with everything from off-duty denims to sharp tailored suits, the right pair of trainers will take you through the working week to the weekend and back again. 
When looking for comfortable trainers that maintain a sharp edge, look for leather uppers with keen attention to detail, such as counter and toe overlays. 
Or try a hybrid style, such as our Soren trainers. Crafted from suede, this hybrid silhouette features apron seam piping across the vamp, akin to that seen on penny loafers, situated on a trainer cup sole. 
Slip-On loafers
As comfortable as your at-home slippers, it doesn't get much better than a pair of slip-on loafers. 
Ideal for warmer climes, loafers make the perfect addition to your summer wardrobe thanks to their lightweight, slip-on nature. 
Smart enough for formal occasions, understated enough to see you through casual affairs – loafers take their cue from whatever you style them with, from suits to shorts. To maximise your comfort, look for insoles that feature added arch support. 
The Derby
And finally, Derby shoes. A true, timeless staple. 
More flexible in construction and appearance than their formal cousins, the Oxford and monk silhouettes, Derby shoes can do it all. From the most formal occasions – weddings, the races – to more relaxed affairs, parties, and workwear, there's a comfortable Derby shoe to suit. 
Neutrals make a considered choice for busy days where no one hour is the same as the next – and pair just as well with blue denims as they do with a navy suit. 
Wingtip brogues always look dapper and add a sense of personality to your occasion stylings. Opt for cushioned footbeds and full leather internals for a comfortable fit that will mould to suit you. 
The Day-to-Night edit. Shop now.
Share this post