How to Take Care of Suede Boots
Posted by Jones Bootmaker on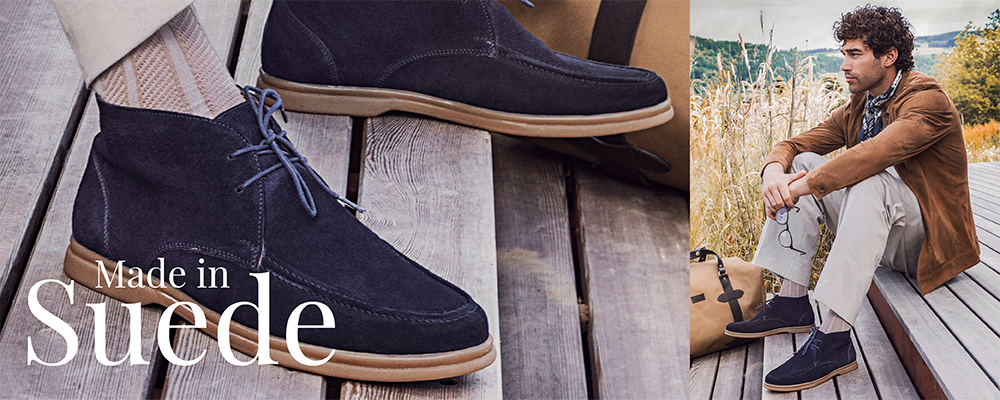 A worthy investment for your autumn wardrobe, the cold is no match for a well-crafted pair of suede boots. 
More than capable of taking you from the early morning commute right through to slick city bars come sunset, suede boots offer cool style clock-round. 
Why suede? Softer in appearance than their highly polished counterparts, boots constructed in suede will add rich texture to your looks, well-suited to casual outings and after-dark drinks.
Maintaining the rich, velvet-like look of your suede shoes and boots requires a little know-how. Rest assured, in this guide, we cover all the bases of how to take care of suede boots.  
In the meantime? Meet the three essential suede styles set to reboot your autumn edit. 
MODERN DAY – MODERN SUEDE
Men's suede Chelsea boots are a staple for the colder seasons. 
This season is all about autumnal shades, with chocolate and tan taking the top spot as the most coveted colours. Naturally versatile, deep browns and other earthy tones pair well with a neutral palette and equally saturated shades, such as navy and dark-wash denims. 
The Chelsea style lends itself well to easy dressing. Made in modern materials for the pace of today, all our suede Chelsea boots bear the hallmarks of this truly timeless and comfort-led style.  
KEEP IT CLASSIC
Another classic, men's suede chukka boots are the next style on our list of essentials. Whether for casual days, a weekend away, early brunch or evening dates – chukka boots can do it all. 
 Artfully crafted in suede, Enfield features the familiar characteristics of the chukka, note the low-cut profile, piped apron seam, and two-eyelet lace system.
Right down to the careful stitching and flexible rubber sole, Enfield shows keen attention to detail. 
NEW DIMENSIONS
Cheadle redefines the chukka style, keeping the apron piped toe while opting for a lower cut profile and offset by a chunky commando outsole, adding overall dimension and depth to their appearance. 
Ideal for those looking to dip their toes into the versatile world of the suede lace-up, Cheadle is set to nail the office dress code and the off-duty style. 
Plus, their low profile poses the perfect opportunity to show off complementary socks. 
How to Clean Suede Boots
Keeping suede boots clean is the key to maintaining their supple qualities. When looked after, a pair of well-crafted suede boots will outlive one season, taking you from one to the next. 
When looking after suede, the key to longevity is protection. Before the initial wear, use a quality suede protector. This will help keep your suede boots and shoes stain-free.

Before attempting to clean suede boots make sure they're completely dry. Avoid sunlight and hairdryers to maintain their velvety texture. 

Once dry, brush gently with a suede brush to remove loose dirt. It's best to brush in one direction, following the nap of the suede (tip: brushing in the wrong direction will cause the suede to appear lighter in colour).

A suede cleaning block can be used to tackle small stubborn marks. Anything more abrasive can damage or discolour the suede. 

One final brush should smooth down any last imperfections. Then re-apply your suede protector to prevent future stains.

Remember that suede is not entirely colourfast, especially when wet, so you might see some colour transfer from darker suedes to lighter materials where the two have rubbed together.

Share this post