Occasionwear Shoes And Matching Bags
Posted by Jones Bootmaker on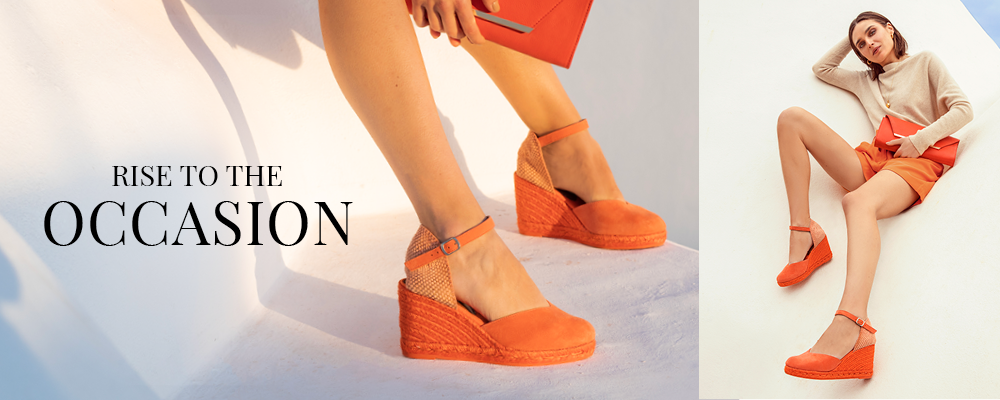 Summer usually means a jam-packed social calendar. 
We all know that feeling, the 'what-will-I-wear' pit in our stomachs. Whether it's a day at the races, a weekend wedding or just cocktails in the garden, the pressure to purchase a whole new outfit each time can be daunting. 
Down with disposable wardrobe ideology. Why suffer the impact to our planet (and our wallets) that come from buying a new head-to-toe look for every occasion, when you can refresh any outfit with matching accessories?
The beauty of coordinating your bags and shoes is that they instantly inject impact into any outfit. Pull off 'put together' with a pop of colour or choose creamy leather in spring shades, feel fresh and in full bloom for any event summer throws your way. 
Our collection of luxury sunshine-approved occasion shoes and matching bags will take you from desk to dancefloor, in the bink of an eye. Versatile? Endlessly. Show-stopping? Always. 
We're walking through summer on rose-tinted heels,  here's why you should too.  
Matching accessories create a cohesive and polished look, showing the world your creativity and attention to detail. These hot pink accessories are so bold, the rest of your outfit doesn't need to be. From silk slip dresses in light shades, to cream co-ords, a flair of fuchsia makes a statement everywhere. 
Adopt 90s chic with KENNEDI, our minimalist sleek leather mules. Boasting an understated cut out detailing and full leather linings, these sandals sign off your outfit the right way with supple suede and light underfoot cushioning. Whether it's a day at the races or a dressier day at work, KENNEDI's got comfort and style covered. All you need for true nostalgia. 
KIMORA's raffia accents are one of this season's big hitters. We don't trail after trends, but with our retro-inspired leather heeled mules, we just might start them. Crafted with a cushioned underfoot and butter-soft suede strap, the KIMORA mule is sure to see you through the summer months in style. 
You can't beat a classic, but you can update one. 
Our WHIMSY top handle handbag combines timeless design in bold, bright hues to effortlessly compliment any outfit. Endlessly versatile, this supple leather handbag features a spacious interior and striking metallic buckle detail fastening for extra security. 
Make a bold statement with the VINCENZA hot pink clutch bag. This vibrant accessory adds a fuchsia flare to any outfit, while it's sleek minimalist design and compact size make it perfect for carrying essentials with style. Whether you're attending a special event or a night out on the town, this eye-catching clutch will turn heads. 
EFFORTLESSLY COOL AND CLASSIC, NAVY WILL NEVER GO OUT OF STYLE. 
With a block heel and a single strap for added comfort, KASSIDY is the block heeled shoe as functional as it is fabulous. Crafted from smooth leather and featuring an eye-catching metallic buckle fastening, whether you're dressing up for the office or keeping it cool and classic for an elegant evening, KASSIDY's got you covered. 
When we think of summer sandals, we think espadrilles. Timeless and versatile, our Arabella wedges are primed for soaking up the sunshine. Cut from rich suede across the upper and built on a classic raffia wedge, pair with palazzo pants for a sophisticated summer look. Secured with the buckle fastening ankle strap and made with a deep cushioned leather insole they're bound to be the pair you'll turn to every summer. When Alex Turner sang about Arabella, we're pretty sure he meant our unforgettable summer sandals. 
Our VINCENZA clutch is a true love letter to navy. Minimalist design with gold metallic accent, VINCENZA is the perfect base, allowing you to play with colour and texture in your wardrobe. Paired with KASSIDY or ARABELLA? They're a match made in heaven. This harmonious, yet understated, combination elevates your outfit, injecting a sense of completion to your look that's both intentional and visually appealing. Look like you mean business everywhere from workplace events, to after dinner drinks. 
Soft suede and smooth leather in spring shades. Summer sorted. 
Keep it classy with GIORGINA's pointed toe, an ageless, chic heel for workwear, rooftop bars and everything in-between. Lined with leather and layered on a wide heel to evenly distribute your weight, GIORGINA won't compromise comfort or style. GIORGINA's lavender leather slingback design is a sure bet season after season. Add the finishing touch to floral dresses in a salute to springtime style, or freshen up monochromatic tailored suit to give a feminine flair to traditionally masculine silhouettes. 
Level up your occasion wear with GINETTE's low block heel. Looking for comfort and style in equal measure? With a leather upper and lining, these summer sandals are sure to serve up comfort as well as glamour. GINETTE's asymmetrical straps drape across the ankle in a tribute to 90's fashion. Searching for a bag to match? We have just the thing… 
Meet WINIFRED. Our love letter to the 90's. Crafted from quality leathers, WINIFRED's curved form will stand out in the crowd. With a surprisingly spacious interior, invest in WINIFRED and watch it effortlessly transform any summer look, time after time.  
Share this post